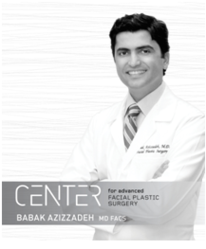 Los Angeles, CA (PRWEB) March 14, 2012
Doable board certified facial plastic surgeon, Dr. Babak Azizzadeh's innovative surgical techniques and expertise in facial aesthetics make him highly sought out by patients from across the country. Dr. Azizzadeh specializes in facelifts, rhinoplasty and non-surgical facial rejuvenation treatments, including Sculptra, Botox and Ulthera. Providing his patients with natural looking facial rejuvenation results is Dr. Azizzadeh's primary goal.
Dr. Azizzadeh is featured in the Spring/Summer 2012 edition of New Beauty magazine. The magazine highlights his expertise in the field of facial plastic surgery.
Readers looking for the latest in "must-have" anti-aging strategies and cosmetic enhancements turn to the pages of NewBeauty. The world's most unique beauty magazine, NewBeauty is the ultimate aesthetic resource for "everything beauty," covering subjects from advancements in plastic surgery to the most to the newest wrinkle-reducing serums and everything in between.
Since its launch in January 2005, NewBeauty has fearlessly enabled an open and ongoing line of communication about cosmetic enhancements between consumers, manufacturers and medical professionals. Let's face it: More than 12.4 million surgical and nonsurgical cosmetic procedures were performed in 2010—a number that continues to rise. Yet no other publication approaches the subject with NewBeauty's dedication to fairness and accuracy. Issue after issue, NewBeauty fills the void for reliable information on all types of aesthetic procedures in light of the growing interest and surge in cosmetic-enhancing treatments. Informed, enlightened and inspired readers are empowered to make the best decisions to reach their beauty goals, be they topical, surgical or minimally invasive.
Dr. Babak Azizzadeh, the Chairman and Director of the CENTER for Advanced Facial Plastic Surgery in Los Angeles, is a Harvard-trained facial plastic surgeon, specializing in cosmetic and reconstructive plastic surgery of the face, eyes and nose. He is double board-certified by the American Board of Facial Plastic and Reconstructive Surgery as well as the American Board of Otolaryngology-Head & Neck Surgery. His expertise in cosmetic and reconstructive plastic surgery has made him one if the most sought-after surgeons in the country.
In addition, Dr. Azizzadeh is also highly skilled in non-surgical facial rejuvenation treatments, including lasers, Ulthera, injectables, fat grafting, chemical peels and liquid facelifts. He has written 5 medical textbooks, lectured around the world and been featured in national media outlets including The Oprah Winfrey Show, The Doctors, The New York Times and Discovery Health for his extensive knowledge in facial plastic surgery.
Located in the heart of Beverly Hills, the CENTER provides our patients with the most comfortable and technologically advanced facilities in the field of medicine. For more information about the CENTER for Advanced Facial Plastic Surgery visit http://www.facialplastics.info.