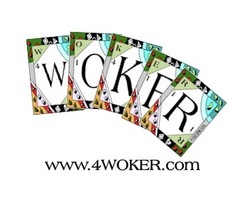 "WOKER challenges the mind in a fun and entertaining way. It's a great game to be played among friends." Wendy C.
Denver, CO (PRWEB) December 3, 2009
WOKER™ is a new word & card game that combines the intellectual challenges of word games with the quickness of card games, specifically Poker. Released in time to make the holidays bright for friends and family, WOKER is a hot holiday gift and stocking stuffer this season.
The WOKER deck consists of 120 cards with letters and point values on them. The goal is to make the highest scoring words with your cards based on the points associated with each letter. Lisa Teore, inventor of WOKER, notes, "It's a witty and engaging word and card game and is a delightful way to spend time with friends and family!" WOKER provides a variety of play options with 3 games and 2 styles of play within the one deck.
The 3 games players can choose are WOKER Draw, WOKER Stud and WOKER Hold 'em, where play is loosely based on the poker versions of those games, though slightly modified to accommodate the spelling of words. Players can also choose their style of play by opting to play the basic version by tallying their points on the WOKER score sheet provided with the game. Or when they're in a betting mood, they can play with chips and use the betting version.
Mary Anne B of Denver says, "WOKER is fun and easy to play. It's actually easier than poker because you don't have to remember what beats what. You make words and add up the points."
It's a family game, a party game and an educational tool – depending on who's playing! "Kids" from 8 to 108 can play.

It's an entertaining way for children to hone their vocabulary and counting skills – just don't tell them that.
It offers seniors a pleasurable way to keep their minds active and sharp.
For those in between, it just a jolly good time.
For children 5 – 11, there's WOKER Jr. ™! The rules are slightly modified to make the game most enjoyable for smaller hands and growing minds.
WOKER is played most effectively with 2 – 9 players. The 120 card WOKER deck includes four WOKER Jokers – also known as the Wild WOKER's™. They are wild cards, can represent any letter, and are worth 4 points.
"Fun game! I love the 'read 'em and weep' aspect when laying down your hand!" says WOKER fan Michelle M.
The team at WOKER is proud to be sending games to the troops this season. Team WOKER is also enabling WOKER fans the ability to send games to our courageous troops via the WOKER website with a special offer -- Buy a WOKER game and get a second WOKER game for only $6 that will be sent to troops fighting in Afghanistan and Iran.
WOKER promises to bring much joy and fun to many this holiday season and beyond.
About the WOKER team: WOKER was created by Lisa Teore, WOKER'S Player-in-Chief, who lives in Denver and loves all kinds of indoors and outdoors activities and games. Lisa grew up in Philadelphia, the city of brotherly love, soft pretzels, cheese steaks, and TastyKakes! Being an innovative new product development professional, Lisa's creative juices led her to develop a couple of games – including a board game still in development.
WOKER took hold a couple of weeks after playing the world's most popular word board game with some friends. Lisa woke up and thought what if we made a card word game that would lead to a quicker and more animated style of play. Utilizing on her casino industry marketing background, she mixed words and poker to come up with WOKER! After playing it with friends and family, it was time to share it with other word game fans and thus WOKER was born. Key is the intellectual stimulation found in word games, with the quick, yet strategic, style of play found in card games. Lisa is happy to provide journalists with samples of WOKER for product reviews.
Visit the WHAT'S UP Page to learn more, become a fan and check out the latest WOKER happenings.
###