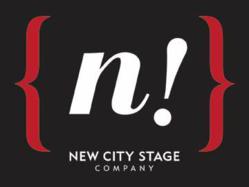 The Philadelphia Inquirer calls New City Stage Company one of the spunkiest young theatre companies in town.
Philadelphia, PA (PRWEB) July 31, 2012
New City Stage Company, "One of the spunkiest young theatre companies in town" according to the Philadelphia Inquirer, has re-branded their logo and web site look for their 7th season, their most daring season yet. The new logo reflects the influence of social media and how technically in-tuned New City's audience is. The company continues its residence at the Adrienne Theatre.
The logo was officially released on July 31, 2012, one day prior to the 6th birthday of New City Stage Company. Established by University of Pennsylvania graduate student Ginger Dayle on August 1, 2006, New City Stage's founding mission was to give college students like herself the opportunity to work with seasoned professionals from start to finish in a fully mounted professional production. As a young professional it can be hard to get your first theatre job and many recent BFA and MFA students start their own companies to have a venue to perform their work in. But New City Stage had a different approach: give recent college graduates an opportunity to work in a professional setting alongside seasoned professionals so that they can expand their resume and as well as their social network within the industry. Many young professionals who receive their first job at New City not only are invited back but also get opportunities at other theatre companies because of connections they've made with other artists. Many young actors who have gone on to work at large regional theatres such as the Walnut Street Theatre, the Arden Theatre and the Wilma Theatre as well as Broadway, received their first opportunity form New City Stage Company in Philadelphia.
New City Stage has an exciting season planned for 2012-13, including 3 Philadelphia premieres and a new educational performance series. Stage Magazine noted last year that "no one does mad-cap socio-politico theatre like New City Stage." The season features 2 plays making statements about the current political climate.
The season opens with the Philadelphia premiere of RFK by Jack Holmes, where well known television and film actor Russ Widdall will portray Senator Robert F. Kennedy during his run for the presidency up until his untimely death. New City has recognized that there are many parallels between the Obama administration and the Kennedy era, hence the timeliness of presenting this play. The show will run at the Adrienne Theatre from October 3 - 21, with additional benefit performances November 4 and 5 for seniors and high school students.
In an ironic twist, the same actor will portray Republican Presidential nominee Mitt Romney in the holiday show farce MRS. BOB CRACHIT'S WILD CHRISTMAS BINGE in December. More information about the 2012-13 season can be found here.
Tickets and subscriptions to the general will be available for sale by August 10 via the web site and box office at (215) 563-7500. Press reservations can be made now by contacting publicist Ginger Dayle at (215) 603-9600.