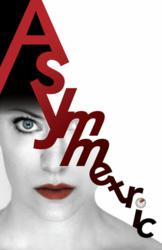 Stage Magazine calls the production "amusing and thought-provoking." The play is SPY GAMES meets THE NOTEBOOK.
Philadelphia, PA (PRWEB) May 24, 2012
New City Stage Company is pleased to continue the 2011-12 season with the world premiere of "Asymmetric" by award-winning New York City playwright Mac Rogers. The script was commissioned for New City's season "The Terror Within," looking at the war on terror 10 years after 9/11. This exciting new thriller officially opened May 19 at the Adrienne Theater Second Stage at 2030 Sansom Street in downtown Philadelphia. The show continues until June 10. Tickets are $22 - 26 and available at http://www.NewCityStage.org and by calling the box office at (215) 563-7500.
After a very successful opening night attended by the playwright himself, many of the audience members have written about their affection for the show on their personal blogs, Facebook, and the web sites that encourage feedback, such as Goldstar.
Some of the comments thus far featured on Goldstar.com include:
"Very engaging, never dull, well acted and thought provoking as well as entertaining."
"ASYMMETRIC is a very serious and thought provoking story that has a twist at the very end.... Using manipulation, deceit and force to achieve a solution is cleverly used to develop the under lining story that will surprise you in the end.... It is worth seeing..."
ASYMMETRIC was the highest selling show on Goldstar the week the event was added in April and has continued to be a top seller. After the May 20 performance, the first date Goldstar members could buy discounted tickets, 2 member reviews were listed and the remaining tickets sold out. More tickets were added and ASYMMETRIC received the "Roar of the Crowd" distinction this week.
Stage Magazine also reviewed the play, noting that "the play contains all the requisite ingredients of a classic spy story" but at the same time it "also satirizes the questionable psychology and policies of real-life national intelligence." That's exactly what attracted Producing Artistic Director Ginger Dayle to the play. "This is really a love story hiding inside a spy thriller, that also reflects mental health issues and substance abuse. How far would you be willing to go to protect this country, and the ones you love? Is any act of terrorism or assassination justified?" asks Dayle. The play moves from high level interrogation rooms to the outskirts of Reykjavik, Iceland for its thrilling conclusion.
About the play:
This one act 75 minute play follows the return of black ops agent Josh Ruskin to the mysterious Fifth Floor, an elite anti-terrorist intelligence wing of the CIA. A former top interrogator, he's been recalled to break a traitor who has been leaking sensitive information. His career, marriage and life fell apart when he became a depressed alcoholic. Now he has one last chance at redemption but it could mean destroying the only person who ever really mattered to him.
Starring Barrymore Award winning actress Kim Carson. Also featuring Kevin Bergen Ross Beschler and Eric Eric Rolland.
Directed by television and film actor Russ Widdall. (Credits: TV: The Wire, Hack, It's Always Sunny in Philadelphia. Film: Game Change, My One and Only, National Treasure 2.)
About the playwright...
Mac Rogers is an award-winning Brooklyn-based playwright, professional writer, and performer who writes and produces emotionally gripping thrillers, science fiction, horror, and dark comedies for the stage. As a professional writer, Mac has contributed columns to Slate.com and New York Magazine's Vulture site. He is a founder and producer of Gideon Productions, which is currently in residence at the Secret Theatre in Long Island City, New York. His most recent play, "Blast Radius", debuted in March to critical acclaim. The New York Times called the production a "suspenseful second part of an alien invasion trilogy by Mac Rogers... whose confident writing displays deep affection for the genre.... [the] cast [was] hewing to the realism of this fantastical material… [the] two hours zip by."
Mac graduated from the University of North Carolina at chapel Hill and is a native of that state. his first play, UNIVERSAL ROBOTS, was recently produced at a high school in his hometown.
SUMMARY INFO ABOUT THE SHOW:
ASYMMETRIC
Written by Mac Rogers
Directed by Russ Widdall *
Previews: Thursday & Friday May 17 & 18 at 8 p.m. Saturday May 19 at 3 p.m.
Opening Performance: Saturday, May 19 at 8 p.m.
Closing Performance: Saturday, September 17 at 11 p.m.
About New City Stage Company:
New City Stage Company, founded in 2006, is dedicated to presenting high quality professional theatre that engages audiences on a variety of levels; not only entertaining them but also encouraging awareness of issues relevant to the community. We draw our season from contemporary and classical works, with a special focus on including Philadelphia premiers from playwrights whose work and stories are not normally found in the region.
Also being performed by New City Stage Company at the Adrienne Theatre Second Stage:
SAVAGE/LOVE and TONGUES
As an added bonus, New City Stage Company is happy to present an encore limited run of our 2011 Philadelphia Fringe hit. Audiences were enchanted by these rarely performed modern soliloquies, which the City Paper hailed as a "soaring soul plunge." Click here for more information.