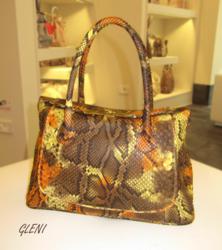 Our company philosophy is founded on a restrained and timeless elegance for the chic woman with class
San Benedetto del Tronto, Italy (PRWEB) May 04, 2011
Savvy fashion buyers are all agog for the long awaited launch of Gleni's new collection of exotic leather handbags. The Italian company specializes in top quality artisan-made handbags and leather accessories and is the first choice for discerning women who look for luxury without the designer price tag.
With exotic leather accessories much in evidence in big-name designer collections this year, Gleni is looking forward to a busy season at their online boutique http://www.gleniboutique.com/. Their new collection focuses on the highest quality exotic leathers, crocodile, alligator, ostrich and python, in a wide variety of handbag designs, created by their exclusively Italian artisan manufacturers.
"Our company philosophy is founded on a restrained and timeless elegance for the chic woman with class," explains Arben Qoku, Gleni's director, "and we make sure that she gets the very best that the Made in Italy label can provide - exceptional leathers from top Italian tanneries, meticulously crafted by our artisans into the very highest quality handbags."
Gleni's popular python handbags reveal a rainbow of colors. Subtle, light shades are highlighted with streaks of gold or silver. Hand painting of skins allows contrasting colors for dramatic effect. This year Gleni are also using the python Curtis skins to great effect, for even coloring without the typical python patterning. Bolder, summer colors are also to be explored in this new range of python handbags, as the versatility of this exotic leather is fully utilized.
Gleni's new ostrich bag collection is a demonstration of the thought they put into the responsible use of resources. They have made a fashion statement out of using the whole ostrich skin in certain of their handbag designs, rather than just using the follicle rich neck area and discarding the leather with fewer of the characteristic ostrich polka dots, as happens with many ostrich leather goods producers. This has the happy result for Gleni's customers of combining great quality with affordability. Another new feature of the ostrich collection is a pearlized finish to the leather, giving a satin effect that together with the light and delicate shades creates a truly beautiful handbag.
While delicate lilac and subtle light blues and greens feature strongly in their latest color range, the classic browns and chestnuts distinguish Gleni's latest upmarket crocodile and alligator bags. These quality bags represent a significant investment and their classic lines and colors are guaranteed to last a lifetime, without ever looking out-of-date.
The new 2011 collection is divided into four lines to cater for all Gleni's loyal customers. Their 'Essential' line is a classic range of quality handbags designed to outlast the quirks of fashion and remain stylish and elegant for many years. The 'Femininity' line is a range of simple, functional but stylish totes and large bags designed with practicality in mind for the working woman and busy mother. The 'Easy Chic' line includes all the fun and youthful designs that embrace the latest trends without sacrificing any of Gleni's hallmark quality. And last but not least the 'Royal' line contains all Gleni's most prestigious designs, including exclusive crocodile bags and exquisitely decorated bags in ostrich.
Gleni's newly released 2011 collection can be viewed at the Gleni Boutique http://www.gleniboutique.com/. Check the featured products daily to scoop the very latest Gleni handbags, as new designs will continue to be added throughout April and May 2011.
###