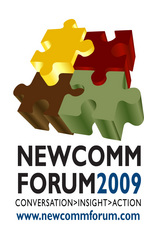 Palo Alto, Calif. (PRWEB) February 20, 2009
The 5th Annual New Communications Forum, the premier conference that brings together thought leaders and decision makers to discuss the impact of social media and emerging communication tools, will be held at the Hilton Hotel in San Francisco's Financial District April 27 - 29, 2009.
NewComm Forum is one of the world's leading conferences focusing on the latest trends in new and emerging media and communications platforms. Presenters and instructors include the Fellows of the Society for New Communications Research, as well as other senior media and communications professionals who have pioneered the use of new communications and social media.
Participants in NewComm Forum '09 will hear award-winning case studies and discuss best practices for social media and innovation, blogger and influencer relations, online community development and management, collaboration and co-creation strategies, social media for internal communications, investor relations, and organizational change, social media program management and integration with existing media and communications initiatives, online reputation management, and social media metrics and measurement. In addition, presenters and participants will discuss the hottest topics, including crowdsourcing, Facebook, micro-communications tools like Twitter, global trends in mobile media, new media and journalism models, emerging business and organizational models, social media and the gift economy, social media and philanthropy, and 'new economy' issues and developments.
Featured speakers will include Sashi Bellamkonda, Chris Brogan, Adrian Chan, Julie Crabill, Vanessa DiMauro, Laura Fitton, Susan Getgood, Paul Gillin, Shel Holtz, Shel Israel, Alan Kelly, Steve King, JD Lasica, Geoff Livingston, Jen McClure, Gaurav Mishra, Carolyn Ockels, Katie Paine, Brian Solis, Todd Van Hoosear, Dr. Mihaela Vorvoreanu, and many others.
This year's NewComm Forum will be co-located with the Inbound Marketing Summit. Participants can register to attend both events at a reduced rate for a comprehensive immersion into the world of social media and new communications.
NewComm Forum 2009 is presented by the Society for New Communications. For more information and to register, visit http://www.newcommforum.com/2009/.
About the Society for New Communications Research (SNCR)
The Society for New Communications Research is a global nonprofit 501(c)(3) think tank dedicated to the advanced study of new communications tools, technologies and emerging modes of communication, and their effect on traditional media, professional communications, business, culture and society. For more information about the Society for New Communications Research, visit http://www.sncr.org, email info (at) sncr (dot) org or call (877) 304-SNCR (7627).
# # #