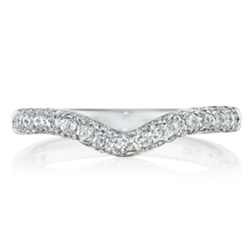 Our track proven contour set is all you need to guarantee a flush fitting match to any engagement ring.
New York, NY (PRWEB) May 13, 2014
Internationally renowned Loving Embrace makes headlines with their patent pending contour wedding band program. By providing the ease of custom design, without the risk of losing or damaging a ring due to removal, the program has been a proven success in luxury retail stores that relish excellence in customer service. In response to popular demand, Loving Embrace will unveil five new designs each quarter, with the first five launching in May 2014.
Curved to accentuate and complement over 75% of all diamond engagement ring center stones and three-stone rings, each contour wedding band fits flush along the diamond, giving the look and feel of a custom wedding band set, without the investment of custom work….or removing any jewelry. Contour wedding bands are measured on the client's hand using a patent-pending measuring tool. The five new styles that have been added to the existing 5 styles are purchased as alloy samples, providing minimal overhead inventory for stores, which customers can easily place orders from.
New styles unveiled in May are perfectly flush around a variety of classic settings, and include: shared single prong, two row ribbed center, channel set alternative with sapphire, three row mock pave and two row mock pave curved wedding band styles. Beautifully crafted to mimic the diamond pattern on the most popular engagement and three-stone ring styles, the new designs bring variety, practicality and sophistication to the existing twelve-band line. Peter Morfino, CEO of PTAK Bros, says "Our track proven contour set is all you need to guarantee a flush fitting match to any engagement ring. With our patented contour tool there is no need for your customer to leave her expensive engagement ring with you, and no need to maintain a large inventory of curved wedding bands. With a large variety of setting styles and customizations available, you are assured of not missing another shadow band sale."
The attractive display case arrives ready to show with the bands, along with the patent-pending measuring tool. Turnaround time for orders is approximately one week. To learn more about the Loving Embrace Contour Wedding Band Program and its new ring styles, visit http://www.thelovingembrace.com.
About PTAK Brothers
A wholesaler located in NYC's historic diamond district, PTAK brothers is a family owned business spanning two generations, since 1946. CAD, design and manufacturing of in-demand fine and fashion jewelry designs are the primary business, as well as distribution of The Loving Embrace.