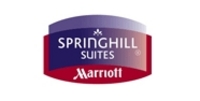 Dallas, TX (PRWEB) October 14, 2009
The Springhill Suites Dallas is currently offering a discounted rate with an additional 1,000 Marriott Rewards points to guests that book a room for one of the valid dates. The reward points will be credited to the account upon check in.
This promotion is valid weekly Sunday through Thursday. This offer expires November 24, 2009 and guests must make sure promotional code M11 appears in the Corporate/Promotional Code box when reserving their room online. Guests can also ask for the promotion at the front desk during check in.
Marriott Reward points can be used for free stays, merchandise, services and frequent flyer miles. The Dallas Love Field Airport Hotel is offering this promotion to reward guests and help them earn extra points so they can take advantage of the benefits offered by the rewards program.
In addition to the extra reward points, guests enjoy luxury accommodations and 96 guest suites with separate rooms for working and sleeping. Love Field hotels Dallas Texas are also in close proximity to area attractions. When guests stay at hotels near love field dallas tx, they are able to partake in the attractions and events.
For more information on this and other deals at SpringHill Suites Dallas NW Highway at Stemmons/I-35E or to book a room today, visit http://www.marriott.com/hotels/travel/dalss-springhill-suites-dallas-nw-highway-at-stemmons-i-35e or call 1-214-350-2300.
About SpringHill Suites Dallas NW Highway at Stemmons/I-35E
Springhill Suites Dallas NW Highway at Stemmons/I25E is located in the heart of Dallas next to Restaurant Row. This hotel offers lush accommodations near the Dallas Cowboy Stadium and the Galleria Mall. It is also close to other Dallas attractions, making it one of the best Dallas Love Field hotels.
# # #