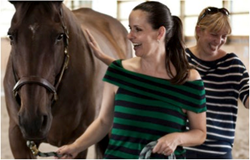 "We are thrilled to be bringing the original Building Block™ Equine-Assisted Learning Certification Program © to Ontario to help others embark on this exciting career with a proven and nationally recognized program." says Tracey Evans
Bradford, ON (PRWEB) February 25, 2015
Dreamwinds Equine Assisted Learning Centre is bringing the Cartier Farms EAL Certification Program to Ontario, providing those who dream of a career with horses a new, nationally recognized choice for certification. Equine Assisted Learning is a growing field with a broad base of applications, including youth development, PTSD support, leadership development, team building and psychotherapy. In an industry that remains unregulated it can be challenging to find a certification program that is standardized and proven effective.
The Cartier partnership spent 10 years researching the lasting benefits of EAL and developed a user-friendly, flexible, teachable curriculum that others could learn and implement at their own facility. Cartier Farms then partnered with the Saskatchewan Horse Federation / Equine Canada to nationally recognize and certify this unique and innovative Building Block™ Equine-Assisted Learning Certification Program © to provide a standardized educational format for individuals interested in expanding their industry knowledge, as well as increase their business' marketability and income potential. Beyond expanding career options, the expansion of this certification program in Ontario will allow more facilities to provide quality equine learning programs that consumers can trust.
"Our program helps clients start off on the right foot with a turn-key and results focused certified program. We are excited to be joining forces with Dreamwinds to drive continued growth of the EAL industry in Ontario" says Gayle Cartier, Owner of Cartier Farms.
Dreamwinds owner, Tracey Evans, completed her certification at Cartier Farms in 2012 to realize her dream of running a successful EAL business. With a passion for helping others reach their full potential, Dreamwinds' programs focus on developing confidence, leadership, communication and team building skills among youth, women, families and corporate teams.
"We are thrilled to be bringing the original Building Block™ Equine-Assisted Learning Certification Program © to Ontario to help others embark on this exciting career with a proven and nationally recognized program." says Tracey Evans, Owner/Program Director of Dreamwinds Equine Assisted Learning Centre.
For more information please visit http://www.dreamwinds.ca/eal-certification.
About Dreamwinds:
Dreamwinds Equine Assisted Learning Centre is located in Bradford, Ontario and offers Leadership, Team Building and Life Skills Programs for Women, Families, Youth Groups and Corporate Teams using Horses as guides. Dreamwinds is Where Horses Bring Learning To Life. http://www.dreamwinds.ca
About Cartier Farms
Cartier Farms is located in Prince Albert Saskatchewan and specializes in Equine Assisted Learning (EAL). Cartier Farms is not only pleased to offer the original creation of the award-winning Equine Assisted Learning Building Block (™) Certification Program, but is honoured to share this program as well.
Media Contacts:
Tracey Evans
289-231-6775
tracey(at)dreamwinds(dot)ca
Gayle Cartier
306-763-2812
cartier(dot)farms(at)sasktel(dot)net