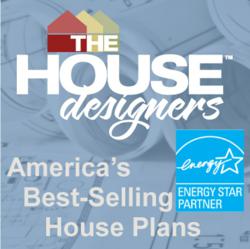 All of our ENERGY STAR® and green house plans meet strict criteria for quality, design and sustainability to allow homeowners and builders the opportunity to incorporate energy-efficient elements before the construction phase even begins.
Portland, Oregon (PRWEB) October 31, 2012
Energy Action Month is ending but for many homeowners nationwide the push towards building an energy-efficient home continues to grow. According to a recent report from the U.S. Energy Information Administration (EIA), homes voluntarily built to ENERGY STAR® specifications make up 26 percent of all new homes constructed in 2011. To date, more than 1.3 million ENERGY STAR® certified homes have been built with over 55,000 constructed in 2012 to date. It's a clear indicator that homeowners and builders are willing to invest in high performing homes.
Other indicators that new home construction is on the rise come from recent surveys from the National Association of Home Builders (NAHB) and Freddie Mac, which works with mortgage lenders to help people get lower housing costs and better access to home financing.
According to Freddie Mac's Primary Mortgage Market Survey the rate on a 30-year fixed mortgage is averaging 3.37 percent and the average 15-year fixed has reached an all-time record low at 2.66 percent.
"Mortgage rates remained more or less unchanged this week as home construction builds up steam," said Frank Nothaft, Freddie Mac's vice president and chief economist. "Construction on single-family homes jumped to an annualized rate of 11 percent in August, the strongest pace since August 2008. Over the first nine months of the year, single-family starts were 23 percent higher than the same period last year."
A recent press release by the National Association of Home Builders (NAHB) states that builder confidence in new home construction continues to improve with a one-point gain on the NAHB/Wells Fargo Housing Market Index (HMI) bringing the index to 41, its highest level since the market crashed in 2007. For the last 25 years NAHB has been conducting this monthly survey to gauge builder's perception of the current single-family home building market.
According to The House Designers, the internet's leading provider of residential home designs, they have seen a 10 percent growth in ENERGY STAR® approved house plan sales over 2011. House plans sold in this collection averaged between 1,800 and 2,200 square feet.
With thousands of home plan companies and builders claiming to offer green house plans, finding an authentic, energy-efficient and sustainable house plan can be challenging for homeowners and builders. At the forefront of green residential home design are the leading U.S. architects and designers from The House Designers. They offer consumers and builders the only collection of EPA® approved ENERGY STAR® house plans to simplify the process of building an energy-efficient home.
"Since our partnership with ENERGY STAR® our architects and designers have been extremely committed to designing new, sustainable homes that have the same appeal and amenities that homeowners and builders have come to expect from our collection of over 6,000 best-selling house plans," said Tammy Crosby, Chief Operating Officer of The House Designers. "All of our ENERGY STAR® and green house plans meet strict criteria for quality, design and sustainability to allow homeowners and builders the opportunity to incorporate energy-efficient elements before the construction phase even begins."
In 1995 the U.S. Environmental Protection Agency (EPA) initiated the ENERGY STAR® specification for residential construction creating homes that were 30 percent more efficient than the 1992 Model Energy Code (MEC). The specifications were revised to create Version 2 in 2006 and earlier this year they released Version 3, which requires new homes to exceed the 2009 International Energy Conservation Code (IECC).
According to its website, "A home built according to a Designed to Earn the ENERGY STAR® home includes energy-saving features and construction practices that will result in a home that is 20 to 30 percent more energy-efficient than a typical new home."
All ENERGY STAR® house plans must be reviewed by a certified Residential Energy Services Network (RESNET) home energy rater to ensure the plans meet the new requirements and features of the Version 3 Program to qualify as "Designed to Earn the ENERGY STAR®. Consumers need to make sure that the builder follows the home plan's construction specifications and works with a home energy rater, who will conduct onsite inspections and testing to verify that the home is built to ENERGY STAR® standards. Typical features in ENERGY STAR® qualified homes include tight construction and duct systems, properly installed insulation, high performance windows and doors, efficient heating and cooling equipment, and ENERGY STAR® qualified lighting and appliances.
"Our goal to support our partnership with ENERGY STAR® is to educate consumers and builders about the benefits of constructing a green home that is built with sustainable building practices, is highly energy-efficient thus using less fossil fuels to operate and maintain and incorporates eco-friendly manufacturers who support protecting our environment like Therma-Tru®, Fypon® and Lumber Liquidators®," Crosby said.
The House Designers annual ENERGY STAR® and Green House Plan competition has produced cutting-edge new sustainable home designs like the award-winning Evergreen Cottage House Plan. This home plan took first place because of its flexible design and use of innovative green building techniques and energy-efficient products. Both active and passive energy saving technologies are implemented in the design, with such features as 6-inch SIP exterior walls, a 20-square-foot grass roof tile system and a wind generator hidden in the traditionally detailed cupola and solar panels.
Another winning design was the Aliste Verde House Plan, a 2,200 square foot two-story craftsman home. Its perfectly square building envelope (36' x 36') makes it economical to build and to maintain while not compromising functionality and aesthetics. The flexible floor plan is perfect for entertaining and features all the latest in energy-efficient kitchen, lighting and HVAC products.
View all the newest green house plans from The House Designers exclusive ENERGY STAR® house plan collection.
ABOUT THE HOUSE DESIGNERS HOUSE PLANS: The House Designers are the leading residential architects and designers in the U.S., owned and operated directly by the designers who represent the majority of pre-drawn plans in America. The House Designers offers the best-selling, most popular construction-ready house plans in the country. Their clients have built homes in every state in the U.S. and in 56 countries around the globe. For more information, visit http://www.thehousedesigners.com or call 866-214-2242.