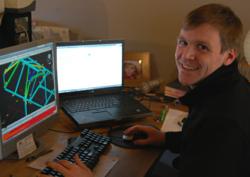 "I'm excited to work on heavy timber construction projects," says Mike. "New Energy Works is a quality company with highly crafted designs that I'm looking forward to being a part of."
Farmington, NY (PRWEB) February 17, 2012
New Energy Works Timberframers is pleased to announce the addition of Mike Peterson to their timber frame engineering group.
Mike will be an active member of New Energy Works Timberframers connecting with architects, designers, and builders regarding timber frame project engineering, plans, raisings, and fine woodworking.
"I'm excited to work on heavy timber construction projects," says Mike. "New Energy Works is a quality company with highly crafted designs that I'm looking forward to being a part of."
New Energy Works Timberframers have been designing and building environmentally responsible timber frames across the USA for nearly 30 years from their facilities in New York and Oregon. Offerings include: Timber Framing (design, engineering, manufacturing, build), Enclosure Systems, Fine Woodworking, Recycled and Sustainable wood products. New Energy Works has 2 LEED AP staff members and is a member of the US Green Building Council.
###