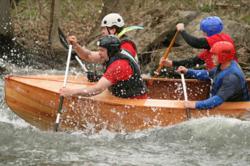 As a result of New Energy Works Timberframers annual contributions, the 2nd generation of the derby was started and is running strong, offering a greatly expanded schedule of events.
Farmington, NY (PRWEB) March 31, 2012
New Energy Works Timberframers recently announced their continued support of the Wild Water Derby, a community funded racing event with multiple divisions for kayaks, canoes, and rafts, held in Shortsville, NY April 28 and 29. Rated one of the largest paddling events in the country by the American Canoe Association, this small town derby pulls 500 competitors from all over the nation, and some 5,000 spectators to the Canandaigua Outlet.
The Wild Water Derby originated in the mid 1970's and ran until 1997 when a lack of funding and volunteer support put an end to it. "The Chamber of Commerce and a handful of white water enthusiasts approached New Energy Works Timberframers six years ago to help us get it started again. Thankfully, they said yes and offered both monetary support and their team's talents. As a result of their annual contributions, the 2nd generation of the derby is strong and offers a greatly expanded schedule of events," says Matt Schaertl, Shortsville Chamber of Commerce. "You can imagine what a crowd of nearly 6,000 guests and competitors does for the economy of our little town, we're grateful to have them in our community."
"Shortsville is where our timber frame shop originated and it's still home to our [fine woodworking group and many of our employees. We believe it's our responsibility as a community member to support Shortsville. We're just lucky that we get to do it with such a fun-filled event," says Jennifer Young, New Energy Works, Marketing Manager. "We're not just financial supporters of the Derby, many of our employees are competitors, and our woodworkers handcraft the coveted paddle 'trophies' that have become a tradition over the years."
Unlike other contest that provide tacky plastic trophies, the derby has highly sought after trophies - small scale custom made paddles built of historic and rare timbers (some more than 400 years old and used during the constructing of the original Erie-Ontario lake canal system) each handcrafted.
Fun fact: the normal water level during the derby is 450 to 500 cubic feet per second or higher, offering class three rapids. New Energy Works timberframers, engineers, and designers have participated in all divisions, but take particular interest in the spectator favorite: the homemade raft event. "Extra" points are earned for creativity and humor and although it doesn't make a difference on how fast this group gets down the inlet, it does give the crowds a chuckle. Equally different, trophies are also awarded for "Most Entertaining Raft" (as judged by the crowd laughter as they attempt the rapids) and 'Best Design" (based on the appearance BEFORE they hit the rapids).
A recent addition to the weekend event is the "flat water regatta" which will take place on Sunday just prior to the canoe and kayak slalom races. While not a true flat water event, the regatta does have a steady flow that gradually increases as you paddle the course and is suitable for paddlers with limited experience. The course is 6 miles but the steady flow of the Canandaigua Outlet allows for a pleasant change in scenery with minimal effort paddle from Canandaigua Lake to the old dam in Littleville.
The event is hosted and organized by the Shortsville Manchester Area Chamber of Commerce. The Chamber of Commerce has made a commitment to provide this event at absolutely no cost to spectators allowing all families – regardless of financial constraints – to gather the kids for an entertaining weekend. Should you attend (and you should), you may notice that every food vendor is a non-profit with sales benefiting great causes from the local food cupboard to juvenile diabetes. Along with the water races, a craft show and fair takes place on the adjacent park grounds.
Details for the weekend:
Saturday April 28, 2011
8:00–10:30am - Registration/Check In, Pancake Breakfast Red Jacket School, Shortsville, NY
11:30am - Raft Parade, Water Street, Shortsville, NY
12:00pm - First Launch
TBD – Awards
Sunday April 29, 2011
10:00am - Flat Water Regatta, Canandaigua Lake to Littleville, NY
1 pm – Canoe and Kayak slalom
For more information, visit the [Wild Water Derby website.
New Energy Works Timber Framers have been designing and building environmentally responsible timber frames across the USA for nearly 30 years from their facilities in New York and Oregon. Offerings include: Timber Framing (design, engineering, manufacturing, build), Enclosure Systems, Fine Woodworking, and Recycled and Sustainable wood products. New Energy Works has 2 LEED AP staff members, is a member of the US Green Building Council, and is Green America certified.