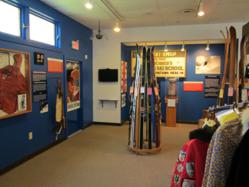 Franconia, NH (PRWEB) July 31, 2012
Following closely on the heels of the opening of a new permanent exhibition at the New England Ski Museum, the non-profit ski history museum recently went live with a completely new website that provides a comprehensive overview of the mission, activities, and exhibits of the organization. Supported by a membership of approximately 1500 in 25 states and 11 countries, the museum located in Franconia Notch State Park has a mission to preserve and display aspects of the history of skiing. The new website provides a central point where visitors can obtain information on the initiatives the museum undertakes to fulfill its mission.
One of the most popular parts of the new site is the online Museum Shop, where products that appeal to skiers and winter lovers are shown. The museum has long offered vintage ski posters reproduced from its collection, books and DVDs on skiing and ski history, apparel, and gifts for skiers in its physical shop. Many of the products offered are exclusively developed by the museum's staff, or authored or produced by members of the Board and museum. For a limited time, free shipping applies to items ordered on the new website.
People interested in ski history will find articles on various aspects of skiing in the Online Journal. One article that many children and parents find helpful is a history of skiing in New Hampshire written expressly for elementary school students, many of whom do school projects on New Hampshire history beginning in the 4th grade. A page called Timelines has extensive chronologies of subjects like ski lifts, snowmaking, and ski patrolling that cite many primary sources, all developed as research tools for the museum's exhibits.
Those exhibits, after being displayed at the museum for a year, are moved to satellite locations throughout northern New Hampshire, and the website supplies current information on the content and sites of those traveling displays. Rounding out the new website is information on the museum's annual events, including its two showcase ski races, the Bretton Woods Nordic Marathon and the Hannes Schneider Meister Cup Race.