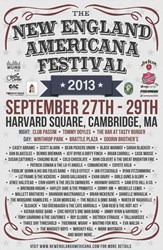 The New England Americana Association is thrilled to announce that their 4th Annual New England Americana Festival is returning to Harvard Square Sept. 27th-29th.
Cambridge, MA (PRWEB) September 23, 2013
The New England Americana Association is thrilled to announce that their 4th Annual New England Americana Festival (http://www.newenglandamericana.com) is returning to Harvard Square in Cambridge, MA from September 27th - 29th.
For many decades, Harvard Square, the heart of Cambridge, has been a breeding ground and focal point for traditional American music. For the second consecutive year The New England Americana Festival will honor the rich traditions of the city by bringing together over 60 local roots acts from all corners of New England for a packed weekend of live music, kinship, and some good, old-fashioned fun.
Festivities on Friday and Saturday night begin at 7pm inside of 3 of Cambridge's historic live music venues: the legendary Club Passim, Tommy Doyle's (formally the House of Blues), and Tasty Burger. Each stage will be packed with top-class music, food, and drink until midnight.
The Festival will continue on Saturday and Sunday at noon with free outdoor stages in Winthrop Park and Brattle Plaza, as well as a stage in the trendy, old-school hat shop, Goorin Bros. Winthrop Park and Winthrop Street will also be filled with family-friendly games, fun giveaways, and representatives from some of the area's best non-profit organizations.
New England Americana will be releasing their second recording project at this years' festival, distributing it for free to attendees. The theme of these recording projects is 'songs in danger of dying' performed by local, collaborating musicians. Artists were asked to think of a song that was important to them from the historical catalog of american music that they feel is at risk of being forgotten in an effort to keep it alive and well. A free copy of the recording will be given with ticket purchase to the event.
We invite you to join us in rediscovering beautiful Harvard Square through a special weekend of music with some of the best performers from around New England!
Friday & Saturday Nights, September 27th & 28th
Club Passim ♦ Tommy Doyles ♦ Tasty Burger
Doors at 6pm / Event Starts at 7pm
Badges to enter all venues: $15 adv / $18 door
2-Day indoor passes are available for $28
Saturday and Sunday Days, September 28th and 29th
Winthrop Park ♦ Brattle Sq. ♦ Goorin Brothers
Music and Family Friendly Events from Noon to 8pm
All stages are FREE during the day!
Please visit http://www.newenglandamericanafestival.com for more information. The complete festival line-up can be found at http://www.newenglandamericana.com/2013-festival-schedule
For more information, images, or to arrange for an interview with the festival organizers, please contact Melissa Zeigler at Powderfinger Promotions: melissa(at)powderfingerpromo(dot)com.
Powderfinger Promotions–Independent Radio Promotion and Publicity. Since being founded in October 1994, Powderfinger has come to be regarded as a top indie radio promotion and publicity firm with ties across North America.