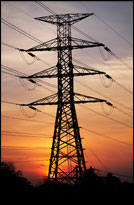 Last year, FEL and HAEC's Real-Time customers saw a total of 47 hours of free electricity.
Manchester, NH (PRWEB) July 08, 2012
For some Freedom Energy Logistics (FEL) and Halifax American Energy Company (HAEC) customers in New England, last weekend's high temperatures brought a welcome surprise. They will see charges of $0 for electricity used from 8-9 a.m. on both Saturday and Sunday.
Large electricity users like the Connecticut Retail Merchants Association, Fairchild Semiconductor in Maine, Rhode Island's Westerly Hospital and Saint Anselm College in New Hampshire have opted to buy their electricity with Real-Time Pricing, which means that when electricity demand is low, prices are, too. Because the intense storms of Friday cut electricity to much of the Eastern U.S. and demand dropped sharply, Real-Time prices dropped to $0 for two hours and were low for many others.
"Real-Time Pricing is not for the untrained," says Howard Plante, VP of Marketing at FEL and HAEC. "You need to keep an eye on the markets and what's coming up. We work with our Real-Time customers, teaching them ways to anticipate trends. We also keep them informed of what we're seeing. In the last heat wave, we gave them a heads-up to curb their electricity use during hours predicted to put the most pressure on the New England Power Grid. Not only does that lower their immediate costs, but it can reduce their capacity charge in 2013."
Last year, FEL and HAEC's Real-Time customers saw a total of 47 hours of free electricity. Brian Mikol of Manchester, NH's Spectrum Marketing Companies, Inc. commented, "It's a perk we don't necessarily expect, but it's a happy surprise when it happens."
The Freedom Energy Logistics family of companies obtains power at the lowest possible price for New England consumers. FEL Power (felpower.com) provides high-end energy management services in electricity and natural gas. Its unique Direct to Grid (or Self-Supply) model guides large-scale users into New England's wholesale electricity market, guaranteeing them access to electricity at the lowest available cost. Halifax American Energy Company (haecpower.com) is a retail electric energy marketer which, in partnership with South Jersey Energy, specializes in transactions converting wholesale and bulk power products into shapes and durations suitable for industrial, commercial, institutional and governmental end users. FEL's sister company, Resident Power (residentpower.com), is New Hampshire's first competitive electricity aggregator to focus exclusively on residences and small businesses.