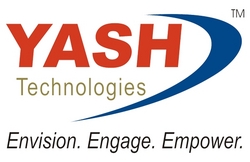 East Moline, IL (PRWEB) March 11, 2010
YASH Technologies, a leading technology services and outsourcing partner for global companies, today announced three new appointments to its leadership team for services in support of SAP® solutions. YASH's management infrastructure additions include: Tom Connorton as Vice President, Service Sales, North America; Mohan Muthusamy as Practice Manager, Human Capital Management (HCM) Services; and Narasimhan Rama Rao as Practice Manager, Customer Relationship Management Services. The team appointments are part of a larger organizational strategy to support accelerated market growth in the application outsourcing space related to SAP solutions.
Tom Connorton is a 25-year veteran of the business management software industry and brings years of consultative selling, team building, and strong customer relationship experience with the SAP ERP application to YASH. As Vice President, Service Sales, North America, Connorton will lead the North American sales team in generating activities that maximize profitability and expand their influence within customer organizations. Prior to joining YASH, Connorton held sales leadership positions at SAP America, Inc. and Infor, and helped sustain strategic accounts such as International Paper, Aircraft Parts International, and the Dallas Cowboys.
Mohan Muthusamy has over 15 years experience in SAP consulting and human resources. As Practice Manager, HCM Services, Muthusamy will provide guidance to the global HCM Competency Division in support of the SAP ERP Human Capital Management (SAP ERP HCM) solution in areas including customer acquisition, enhancing internal consultant training programs, driving solution innovation, and strategic account planning. Prior to joining YASH, Muthusamy served as a lead consultant on SAP ERP HCM for Wipro, IBM, and ADP.
Narasimhan Rama Rao has over 10 years experience in business management and consulting on the SAP Customer Relationship Management (SAP CRM) application. As Practice Manager, CRM Services, Rama Rao will be responsible for the overall direction and resource planning of the division, drive continuous improvement initiatives within its CRM services portfolio, and assist with growing our global customer base in key industries such as chemical, manufacturing, and high-tech. Prior to joining YASH, Rama Rao served as Associate Director, CRM for iServiceGlobe, and as an SAP consultant for Intelligroup.
These key executive appointments will continue to establish YASH's market presence in North America and its continued commitment to providing innovative customer-centric solutions in the global application outsourcing market. YASH continues to ramp up its support, implementation and development teams to accommodate growth opportunities.
For more information, please visit http://www.yash.com/sap or email info (at) yash (dot) com.
About YASH Technologies
YASH Technologies focuses on customer success. As a leading technology services and outsourcing partner for medium and large global customers, we leverage technology and our flexible delivery models to drive performance and business value throughout a customer's enterprise. YASH's comprehensive service approach incorporates a holistic view of our customers that extends beyond delivery. This approach integrates enterprise solutions and services, proprietary best practice offerings, strategic application and maintenance outsourcing, as well as consulting and integration services. YASH is a SEI CMMI (Level 3) and an ISO 9001:2000 certified company with U.S. and India headquarters and regional sales and development offices spread across three continents. For more information, please visit http://www.yash.com or email info (at) yash (dot) com.
SAP and all SAP logos are trademarks or registered trademarks of SAP AG in Germany and in several other countries.
All other product and service names mentioned are the trademarks of their respective companies.
###