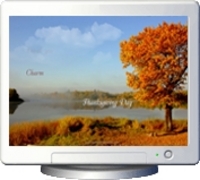 (PRWEB) November 22, 2010
NewFreeScreensavers.com, dedicated to safe and free screensavers, announces the release of free screensavers for the Thanksgiving holiday.
Newfreescreensavers.com respects the importance of Thanksgiving and enjoys the pleasure of giving in the form of free Thanksgiving screensavers. Kind words and a free screensaver will fill the heart with love and warmth during this special time of caring, sharing and remembering to be grateful for all the wonderful things in life.
Free Thanksgiving clock screensavers can decorate the monitor with a round clock neighboring colorful maple leaves and pumpkins. Some other free screensavers include: Thanksgiving Day, Thanksgiving Night and Thanksgiving Turkey. Newfreescreensavers.com's holiday package features one of the most important and iconic symbols of the holiday: Turkey. But, this turkey is a special offer. The turkey from NewFreeSreensavers flies, dances and creates an amusing atmosphere during the family feast. It will certainly be one of the most delightful accompaniments to any Thanksgiving celebration.
All free Thanksgiving screensavers can be downloaded either separately or in one package with other screensavers. It saves time and allows changing screensavers every day easier. Free Thanksgiving screensavers at NewFreeScreensavers.com contain no spyware, adware and viruses and will work on any version of Windows from XP to Windows 7. Downloads are typically small, and take only moments to install, allowing these releases to be available immediately with minimal hassle.
COMPANY:
NewFreeScreensavers.com offers a collection of completely free screensavers and features a tips and tricks section about screensavers, screensaver reviews and a blog. To download a safe free screensaver, and to learn about the best screensaver available, visit: http://www.newfreescreensavers.com/the-best-free-screensaver.html.
Contact:
Irina Sidorova
is(at)newfreescreensavers(dot)com
phone +1 347 767 5896
NewFreeScreensavers.com project
# # #