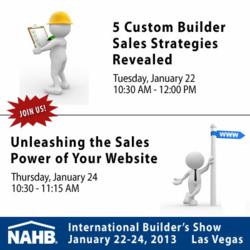 Minneapolis, MN (PRWEB) January 16, 2013
Rick Storlie, New Home Sales Coach is offering two trendsetting programs at the International Builder Show in Las Vegas between January 22nd and 24th. On Tuesday, January 22nd at 10:30 a.m., Storlie will present "5 Custom Builder Sales Strategies Revealed," which will reveal the results of a real client's case study over the course of a year. "Most custom builders and remodelers have the building process down to a science. The Achilles heel is the marketing, advertising and sales process. Our goal was to make the upfront sales process as efficient as the backend production."
On Thursday, January 24th at 10:30 a.m. he will present "Unleashing the Sales Power of Your Website," which will focus on the latest lead generation tactics. The seminar will chronicle how to use a website for maximum effectiveness through each of the three stages which clients go through: lead to prospect, prospect to buyer, and buyer to owner. Each class is approved for NAHB Continuing Education credit.
Storlie is also offering the opportunity to set up one-on-one meetings with him throughout the International Builder Show or with his clients at an invitation-only breakfast event. He plans to give valuable information about lead generation and other topics at the gathering. "I hope you'll take the opportunity at the International Builder's Show to meet with me or with some of my current clients to learn more about the Ubix 5-Step Lead Generation Process and see if it's right for you," says Storlie. Find out how to request a breakfast invitation by seeing Storlie's video blog post.
About New Home Sales Coach: New Home Sales Coach is the builder's ultimate resource for improving margins, and increasing sales and internet leads. It also offers tips on sales techniques and management, as well as new home sales and remodeling sales strategies. To find out what New Home Sales Coach can do for you, visit nhsalescoach.com.