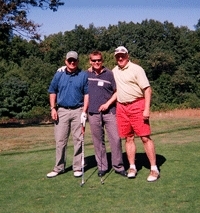 We are extremely grateful for the tremendous support that we have received from our corporate sponsors, Altico Advisors, B2B Contact, Insight, Magenic, Microsoft and Presidio. Our sponsors helped with everything from planning and funding the event, providing volunteers, and inviting customers
Waltham, MA (PRWEB) October 6, 2008
Microsoft and computer learning center, New Horizons of Boston, along with Altico Advisors, B2B Contact, Insight, Magenic and Presidio, have teamed up for their Fourth Annual Customer Appreciation Charity Golf Tournament on October 7, 2008. All proceeds from the event will go to the Dana-Farber Cancer Institute to help support the fight against cancer in children and adults.
The event kicks off with a 9:00 a.m. shotgun start at the New England Country Club in Bellingham, MA. The scenic New England Country Club is one of the best conditioned public courses in the area. The event includes 18 holes of golf, continental breakfast and a Prime Rib dinner. Prizes will be given out for the closest to pin, the longest drive, etc. throughout the day, and a raffle will be held at dinner, with all proceeds going towards Dana-Farber. Gifts towards Dana-Farber Cancer Institute help fund innovative cancer research programs at Dana-Farber and bring finding effective treatments and cures for cancer closer.
"We are extremely grateful for the tremendous support that we have received from our corporate sponsors, Altico Advisors, B2B Contact, Insight, Magenic, Microsoft and Presidio. Our sponsors helped with everything from planning and funding the event, providing volunteers, and inviting customers," said Melissa Ryan, General Manager of New Horizons of Boston. "We are excited because this event gives us a chance to work with other Microsoft Partners within the region to show our clients just how much we appreciate their business, and it also presents the opportunity to donate to an important cause and help in the battle with cancer."
About Dana-Farber
Since its founding in 1947, Dana-Farber has been committed to providing cancer patients with the best treatment available today while developing tomorrow's cures through cutting-edge research. The mission of Dana-Farber Cancer Institute is to provide expert, compassionate care to children and adults with cancer while advancing the understanding, diagnosis, treatment, cure, and prevention of cancer and related diseases.
About New Horizons of Boston
New Horizons Computer Learning Centers of Boston provides learning solutions that help organizations achieve business results, such as increasing productivity and efficiencies, driving revenue, and reducing costs. New Horizons provides customer-focused training choices in multiple formats and delivery methods, offering organizations and individuals top-quality training that can be tailored to meet individual learning styles and specific needs.
New Horizons of Boston offers Desktop Applications Training, Technical Training, Certification Programs, Business Productivity Solutions, Professional Services and Enterprise Learning Solutions.
# # #