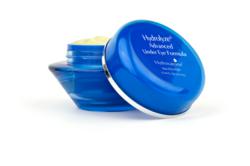 New York, New York (Vocus/PRWEB) February 21, 2011
The anti-aging cosmetic business is a multi-billion dollar industry and one that is consistently developing and recreating itself to meet the demands of consumers who want products that deliver the best results possible. It is with this idea in mind that the company behind the revolutionary product Hydrolyze is proud to announce its reformulation through a re-launch of the product and the introduction of the new Hydrolyze Advanced Under Eye Formula.
The Hydrolyze reformulation has been specifically made to address the needs of people who have dark under eye circles and bags as well as those who are concerned over the appearance of fine lines and wrinkles in the eye area. Hydrolyze Advanced Under Eye Formula comes with the distinction of combining several key ingredients that have been scientifically proven to significantly reduce the appearance of dark circles, under-eye puffiness as well as fine lines and wrinkles through regular and consistent use.
The key ingredients in the new Hydrolyze Advanced Under Eye Formula are Biophytex, Eyeliss and Dermox. Biophytex works to improve the appearance of dark circles while the ingredient Eyeliss helps prevent and fight the development of bags under the eyes and finally, Dermox reduces the appearance of fine lines and helps prevent wrinkles from forming.
Indeed, the new Hydrolyze product is receiving positive reviews from men and women alike. James Lamberti, a user of the reformulated product stated, "Being a man, I listened to the advertisement on the radio and kept telling myself 'This product is for women.' Finally, tired of seeing the dark circles under my eyes, I put aside my manhood and made the move to order the product. It's been a month since I've started using Hydrolyze and there is marked improvement. The dark circles are mostly all gone and the color under my eyes matches the color of my face. I had my doubts because my condition is mainly due to heredity, but this product actually does the job!"
The new Hydrolyze Advanced Under Eye Formula is safe and paraben-free, is clinically proven to give you visible results and is dermatologist and allergy tested to be non-irritating. Individuals who are interested in trying the new Hydrolyze product should visit http://www.hydrolyze.tv for more details and ordering information.
# # #