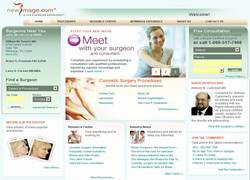 NewImage.com sets the new standard for online elective medical procedure information and services. We've created a community where cosmetic plastic surgeons, financers, and image consultants collectively work to provide clients with a safe and fulfilling experience
Norwalk, CT (PRWEB) October 31, 2008
NewImage.com, the premier online destination for personal image enhancement solutions, unveiled a new consumer portal designed to provide comprehensive plastic surgery information, interactive surgeon search tools, and many other resources to help users make informed decisions about cosmetic procedures. The website also offers a variety of budget-friendly financing options that can make cosmetic surgery affordable.
Localized Information on Plastic Surgeons:
NewImage.com now offers a fully integrated, "one-click" search tool that enables visitors to browse through an extensive database and locate highly qualified surgeons in their area. Searches by zip code or state quickly display local listing(s) of board-certified surgeons, including information about their credentials and experience. Visitors can also research financing options, view or post ratings of surgeons, and schedule a consultation with the doctor of their choice.
Personalized Service Not Available Elsewhere:
Visitors who schedule consultations will experience a unique, individualized approach to cosmetic surgery that starts with a Client Services Consultant, a service only available through NewImage.com. Consultants are experienced counselors, most of whom have had cosmetic procedures, who can answer non-medical questions; help set up financing if needed; explain every step of a procedure, from initial consultation with a doctor to recovery; and ensure the plastic surgery experience is as positive as possible.
Interactive Tools and Online Community:
Visitors can participate in surveys and polls and rate NewImage.com content for completeness and informational value. The NewImage.com plastic surgery community, a new online information sharing area, allows people to share opinions and discuss plastic surgery experiences through interactive forums, blogs, and photo uploads.
Plastic Surgery Articles, Facts, and the Latest News with RSS Feeds:
A large library of plastic surgery articles and procedures pages, researched and written in easy-to-understand language by NewImage.com's editorial staff, as well as current news from leading industry sources is also available. An extensive gallery of before-and-after plastic surgery photos and testimonials from people who have undergone plastic surgery procedures offers a unique learning experience for those considering plastic surgery.
"NewImage.com sets the new standard for online elective medical procedure information and services. We've created a community where cosmetic plastic surgeons, financers, and image consultants collectively work to provide clients with a safe and fulfilling experience," says Kathy Tuite, Senior Vice President of My Choice Medical Holdings, Inc.
"NewImage.com will quickly become the preferred destination for information, personal image consults, a nationwide network of independent board-certified surgeons, and financing on cosmetic surgery procedures. We value and respect the cosmetic plastic surgery community and strive to provide the best resources available to support both surgeons and people who want to enhance their lives through cosmetic surgical procedures with board-certified surgeons."
About NewImage.com:
Founded in 2006, NewImage.com is the premier online cosmetic surgery and elective health destination for personal image enhancement solutions and information to help consumers make educated decisions about elective medical and dental procedures. With reliable and accurate information on cosmetic plastic surgery, surgical hair restoration, med spa therapies, cosmeceuticals, laser hair removal, and cosmetic dentistry; access to a network of independent board-certified surgeons nationwide; flexible financing programs, and personal image consulting assistance with surgical procedures; NewImage.com can be considered the one-stop destination for cosmetic plastic surgery consultations and more. NewImage.com is based out of Norwalk, CT. For more information on NewImage.com, please visit http://www.newimage.com.
About My Choice Medical:
My Choice Medical Holdings, Inc. is the largest medical practice management and marketing company of its type in the United States. We provide access to a nationwide network of independent board-certified plastic surgeons, affordable financing programs, and personalized service from our Client Services Consultants. We connect medical professionals committed to delivering excellence with consumers seeking to enhance their physical appearance. Founded in 2001 and based in Alpharetta, Georgia, My Choice Medical currently works with hundreds of independent plastic surgery centers across the United States to provide superior, affordable, and high quality elective medical solutions for both the practitioner and the consumer alike.
###