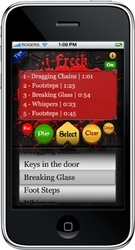 We designed i-Freek for the kid who likes to put his buddies hand in hot water while they are sleeping or the guy who loves all things Halloween and can't wait to use it on his unsuspecting female coworkers at  his office Halloween party
Los Angeles, CA (PRWEB) October 5, 2009
The i-Freek application allows people to sequence up to 5 sounds from 48 pre-recorded and 5 recordable sound effects ranging from Chainsaw and Creaky Old Door to Gas Leak, lending a technological bent to Halloween.
"We designed i-Freek for the kid who likes to put his buddies hand in hot water while they are sleeping or the guy who loves all things Halloween and can't wait to use it on his unsuspecting female coworkers at  his office Halloween party," said Dario Antonioni creator of i-Freek.
"i-Freek should be on your top 5 low cost Halloween things to buy. For $1.99 it's a low cost way of having some good ol Halloween fun," said Jose Caballer, Chief Cheap Officer for i-Freek.
Until October 25th, people can win $ 1000 for coming up with a iFreek prank that scares the pants off an unsuspecting friend, spouse, neighbor or pet. To enter, plan, shoot, edit and upload your prank to YouTube and tag "ifreekfun". Entries will be judged on creativity, execution, how scared the victim was and most importantly how fun it looks.
To enter visit http://www.ifreekfun.com
Credits:
iFreek was created by Orange22 Design Lab in collaboration with The Groop.
http://www.orange22.com
http://www.thegroop.net
Press contact:
Dario Antonioni
Orange22 Design Lab LLC
213-972-9922
press (at) orange22 (dot) com
###