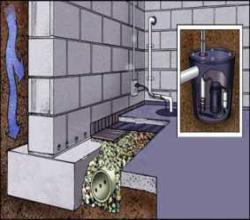 Family owned and operated for 3 generations
Monroe Twp. NJ (PRWEB) April 16, 2012
New Jersey Basement Waterproofing announced the expansion of their waterproofing, mold remediation, damage restoration services for the New Jersey region. For over 50 years this 3rd generation company has been providing comprehensive basement waterproofing solutions including flood and mold clean up throughout the Northeast. The president of New Jersey Basement Waterproofing Salvatore Mendola stated "Our main concern is the health of your home and providing you with the knowledge and direction to maintain a higher air quality in your home and basement". Operations will be based out of Sayreville NJ and Monroe Twp. And we will start servicing New Jersey on or before May 1, 2012.
NJ Basement Waterproofing is affiliated with the Basement Health Association (basementhealth.org). This website has endless resources and information for homeowners on how to maintain a healthy environment in your home. Our brother company, Paul Davis Restoration and Paul Davis Emergency Services (pdrestoration.com) is a network of over 300 individually owns companies throughout the US and Canada. Other companies include, Grate Products and Pioneer Basements. Partnering with these organizations and being in the basement waterproofing business for over 50 years, we have acquired a huge knowledge base and can provide homeowners with endless resources of information through our networking experiences.
About
New Jersey basement Waterproofing started repairing wet basements back in 1961 in Staten Island NY. By the early 70s the business was booming. In 1979 Sal Mendola Jr began helping his father and started expanding into the NJ area. In 2002 he expanded operations into Massachusetts and Vermont. The company further expanded in 2009 with the Paul Davis Restoration franchise specializing in flood, mold and fire clean up. Please visit our web site for more information.