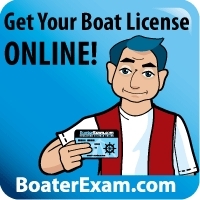 Students don't like to sit in a classroom course for 5 hours
Trenton, NJ (Vocus) May 26, 2010
Every boater out on New Jersey's waters must now carry a New Jersey Boating Safety Certificate, also commonly known as the New Jersey boat license or boating license. Safe boating students can take a New Jersey Boating Safety Course Online, available from BoaterExam.com, industry leader in outdoor education. After the online course, students attend a single proctored written exam session, administered by a BoaterExam partner.
Mandatory boater safety education is expected to reduce the number of boating accidents and fatalities. The convenience of an online course is widely preferred by students. "Students don't like to sit in a classroom course for 5 hours," says Kerry Moher, VP of Business Development, BoaterExam.com, "With the online program they can study the animated course from home and only have to put in an hour at the classroom, to take the final exam."
"Educated boaters are safer boaters, and we're excited that New Jersey is now requiring everyone to get certified." Says Moher, "More people with a boat license should help make New Jersey's waters safer." The online boating course is recognized by the U.S. Coast Guard, approved by the National Association of State Boating Law Administrators (NASBLA) and by the New Jersey State Police as an alternative to the traditional classroom boating safety course
In an attempt to target all learning styles, the New Jersey Boating Safety Study Guide is fully narrated, contains interactive flash-based exercises, over 150 animated videos and visuals in every boater safety exam question. "Our students love that they can sit back and learn about safe boating in an interactive environment," says Moher, "the course engages students of all ages and learning styles."
The proctored boating safety exam is administered by a BoaterExam Partner, and contains similar exam questions as ones seen in the online practice quizzes. Proctored final exams are available in all NJ counties during the summer boating season.
The New Jersey boat license is good for life and does not need to be renewed. After passing the online safe boating course, a one-time payment of $29.95 is made to BoaterExam for the proctored exam voucher. Once students pass the proctored exam they receive a temporary license, allowing them to go boating right away.
###