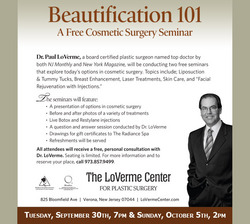 Verona, New Jersey (Vocus) September 26, 2008
We have all heard about ways to improve our appearance through cosmetic surgery procedures such as Botox injections, liposuction, tummy tucks, breast enhancement and laser treatments. However, what do these procedures entail? A free cosmetic surgery seminar to help answer questions about today's many available options will be presented by board certified New Jersey Plastic Surgeon, Dr. Paul LoVerme. Named top doctor by both the NJ Monthly and New York Magazine, Dr. LoVerme will be conducting, Beautification 101 on Tuesday September 30 at 7:00 PM and Sunday, October 5 at 2:00 PM at The LoVerme Center for Plastic Surgery in Verona, New Jersey.
The free informational seminars will feature:
-A presentation of options in cosmetic surgery
-Before and after photos of a variety of treatments
-Live Botox and Restylane injections
-A question and answer session conducted by Dr. LoVerme
-Drawings for gift certificates to The Radiance Spa
-Refreshments will be served
All attendees will receive a free, personal consultation with Dr. LoVerme. Using his advanced computer imaging system, clients can "preview" or visualize the results of their procedure prior to surgery. This provides an ideal forum for the best communication between doctor and patient which is especially important to New Jersey facial plastic surgery patients who often desire subtle changes rather than a dramatic "overly done" look.
The LoVerme Center and its on-site holistically focused Radiance Spa offers the highest quality in medical procedures and therapeutic practices. The beautiful, immaculately maintained 4,200 square foot facility has been accredited by the American Association for Accreditation of Ambulatory Surgery Facilities, Inc. (AAAASF) and is equipped to hospital standards. Conveniently located approximately 15 miles west of Manhattan, the center allows easy access for New York and New Jersey Botox and dermal filler patients, as well as those receiving procedures requiring longer recuperation times. The state-of-the-art surgical suite and recovery room offer privacy and a soothing environment that encourages rest and relaxation. Every member of the center's support team is dedicated to ensuring the safest and most beneficial experience for every patient choosing surgical or non-surgical treatments.
About Dr. Paul J. LoVerme, MD
Dr. LoVerme has an excellent reputation for his natural appearing results. He is often chosen by his colleagues and nurses for their plastic surgery needs. It is his combination of artistry, knowledge, skill and compassion, which appeals to the most discriminating New Jersey and New York patients. As a second generation Plastic Surgeon, he joined his father, Stephen R. LoVerme, M.D. in the private practice of cosmetic surgery and reconstructive plastic surgery after 12 years of accredited training in Medicine, Surgery, and Plastic Surgery. Dr. LoVerme has dual board certifications in Surgery and Plastic Surgery and a Certificate of Added Qualification in Hand Surgery. In addition he offers free reconstructive surgical procedures to children in impoverished areas of the world. Dr. LoVerme has traveled to Mexico, Kenya, El Salvador and Ecuador as a Trip Chief with Healing the Children/Midlantic and has helped change the lives of over 500 children through his volunteer efforts. The LoVerme Center for Plastic Surgery is located at 825 Bloomfield Ave., Verona, New Jersey 07044. Seating is limited for Dr. LoVerme's free seminars. Call 973-857-9499 for reservations and more information. http://www.LoVermeCenter.com .
# # #