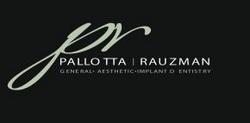 Your local dentist in Hawthorne would like to change the way you feel about a visit to the dentist
Hawthorne, New Jersey (Vocus) September 6, 2010
"Going to the dentist now is a pleasant experience." For many, this sentiment may sound unfamiliar, yet those were the feelings of a recent client of Pallotta | Rauzman General, Aesthetic, and Implant Dentistry in Hawthorne, NJ. "Your local dentist in Hawthorne would like to change the way you feel about a visit to the dentist," writes Dr. Rauzman. With this intriguing invitation Drs. Pallotta and Rauzman encourage current and potential dental patients to experience dental care in a new way. With the launch of their new website by Roadside Multimedia, one can explore the wide variety of services and the industry's latest procedures available from Hawthorne's premiere dental practice.
This boutique website is more than purely informational. Using the latest in Web 2.0 design, Roadside Multimedia has produced an interactive virtual landscape that is a pleasure to navigate. Features of the site include a comprehensive album of before and after photos of the many services Pallotta | Rauzman offers, including: Implants, Bonding, Bridges, Crowns, Porcelain Veneers, Smile Design, Teeth Whitening, Dentures, Invisalign, and Orthodontics.
The new website aims to save users time and money, shortening "waiting room" times by making new patient forms available online. Clients can print and fill out patient information and medical history forms at their own convenience and bring them to the office for their first visit. The site also boasts options like no interest, no down extended payment plans such as Care Credit and Chase Health Advance. There is also an interactive map to guide providing detailed directions for find the office, as well as links to schedule appointments or contact the doctors and staff.
Roadside wanted clients, current and potential, to get a sense of the welcoming atmosphere they would find at Pallotta | Rauzman. The site, therefore, includes testimonials to the welcoming, caring staff, positive atmosphere, and the gentle, high-quality dental care available at this Hawthorne dental office.
"Roadside wants to roll up our sleeves and work with laser-like precision" to guide prospective clients to all the websites they design. When Pallotta | Rauzman wanted to stand out in the deluge of information available on the worldwide web, Roadside Multimedia's well-established expertise in Search Engine Optimization and content-driven Search Engine Marketing led Pallotta | Rauzman to choose them to represent their company.
Adam Rauzman, DDS 164 Warburton Avenue Hawthorne, NJ 07506 Phone: 862.203.4700 Fax: 973.427.3480 http://www.pallottarauzman.com info(at)pallottarauzman(dot)com
# # #