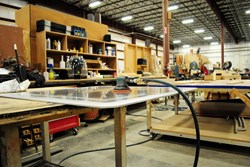 Scranton, PA (PRWEB) September 10, 2013
SmartWatt Energy, a turnkey multi-measure energy efficiency firm, was recently named an "Approved Partner" on New Jersey Clean Energy's Pay for Performance Program. Pay for Performance is a comprehensive energy efficiency program that provides incentives toward whole-building energy improvements in existing buildings and new construction.
The "Existing Buildings" component is designed for commercial, industrial and multifamily buildings with a peak demand in excess of 100 kW in any of the preceding twelve months. Projects are estimated to save 15 percent or more on the energy consumption in buildings. The "New Construction" component is designed for new commercial, industrial and multifamily buildings with 50,000 square feet or more of planned space, as well as buildings undergoing substantial renovation.
Approved partners like SmartWatt are energy experts able to participate on the program and qualify their customers for incentives on the projects. Pay for Performance incentives are awarded upon satisfactory completion of three program milestones—submittal of complete energy reduction plan prepared by an approved program partner; installation of recommended measures; and completion of a Post-Construction Benchmarking Report. Incentives will be between $5,000 and $50,000 based on approximately $.10 per square foot, not to exceed 50 percent of the facility's annual energy expense.
About SmartWatt Energy, Inc.
SmartWatt Energy is a unique energy-efficiency firm. It provides turnkey solutions for utilities, commercial, industrial and institutional clients and also develops proprietary software that streamlines internal workflow processes and provides comprehensive program reporting. SmartWatt Energy's three divisions use cutting-edge technologies, design and processes to take on and solve their client's toughest sustainability challenges:

The Commercial, Industrial and Institutional Division works with end-use clients throughout the United States to design and install multi-measure energy-efficiency projects. Clients look to SmartWatt Energy to provide large-scale savings through turnkey energy auditing, engineering, project management and installation services.
The Utility Programs Division contracts directly with utilities to manage their commercial energy efficiency programs. SmartWatt Energy's vertically integrated program delivery platform ensures utility program success and client satisfaction, because all elements of the utility program are handled by a talented, integrated, cross-functional team.
The Software Development Division creates customized, proprietary software applications to increase efficiencies and provide added value to utilities and national accounts clients.
SmartWatt Energy has won an Inc. magazine "Hire Power" award and has twice been named one of the "Fastest Growing Private Companies in the United States" on the magazine's annual 5000 list. For more information, visit http://www.smartwattinc.com.