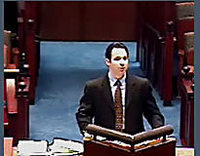 The doctor agreed to pay $1 million and the anesthesia company paid $200,000, Slater says.
Roseland, N.J. (PRWEB) December 28, 2009
New Jersey trial attorney Adam Slater of the law firm Mazie Slater Katz & Freeman, LLC has obtained a $1.2 million medical malpractice settlement for a woman who lost the vision in one eye due to complications resulting from negligently performed cataract surgery, in Natividad Santiago v. Nicholas Trotta, M.D., et al., Superior Court of New Jersey, Law Division, Hudson County, Docket No.: HUD-L-2585-07.
The substantial settlement, which includes the payment of the ophthalmologic surgeon's entire medical malpractice insurance policy, as well as a payment by the anesthesia team, was the result of Mr. Slater's thorough knowledge and experience with ophthalmology and eye surgery lawsuits, and aggressive handling of the case.
The damage to the patient's eye occurred when the surgeon attempted to inject anesthesia at the start of the operation, through what is known as a peribulbar block. The needle was misdirected, in part due to inadequate preinjection anesthesia which caused the patient to feel the injection and move. The complications resulted in the patient's loss of eyesight in the damaged eye.
This recovery is one of many obtained by Mr. Slater, a widely recognized New Jersey medical malpractice lawyer, resulting from Lasik surgery, cataract surgery, ophthalmology, and other aspects of eye care, as well as multiple other recoveries in medical malpractice, wrongful death, personal injury, and product liability cases.
For more information about this medical malpractice settlement and other successful verdicts and settlements obtained by the New Jersey medical malpractice attorneys of Mazie Slater Katz & Freeman, LLC please contact New Jersey certified civil trial attorney Adam Slater.
Mr. Slater, designated by the New Jersey Supreme Court as a Certified Civil Trial Attorney, has recently achieved other substantial jury verdicts and settlements in personal injury matters including a $14.7 million RSD settlement for a man who suffered neurological injuries when his foot was run over by a car, a $2 Million jury verdict for a woman who suffered pelvic injuries when struck by a van, and multiple settlements for patients who suffered permanent corneal and visual damage due to Lasik surgery medical malpractice.
###