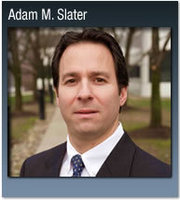 Roseland, New Jersey (PRWEB) December 18, 2007
New Jersey trial attorney Adam M. Slater of the law firm of Mazie Slater Katz & Freeman, LLC has achieved what is believed to be the largest New Jersey settlement of a case involving Complex Regional Pain Syndrome (CRPS), also known as Reflex Sympathetic Dystrophy , or RSD, in Ross Cohen v. Benzl Busch Motor Car Corp. The $14.7 million settlement was agreed to days before jury selection was to commence in the Superior Court of New Jersey in Newark. The unprecedented settlement amount was obtained due to the firm's aggressive and creative approach.
RSD/CRPS is a chronic progressive neurological condition that affects nerves, skin, muscles, joints, and bones. The syndrome usually develops as a result of trauma to a limb, and some cases result from minor, seemingly inconsequential injury, such as a sprain. Pain may begin in one area or limb and then spread to other limbs. The condition is characterized by various degrees of burning pain, excessive sweating, swelling, and sensitivity to touch. Symptoms may become dormant and reappear again with the passage of time. The medical literature recognizes that it is crucial for a person suffering from this condition to obtain prompt, aggressive treatment from a physician who is knowledgeable about the condition.
The $14.7 settlement is yet another substantial recovery by Mazie Slater Katz & Freeman, LLC, an Essex County New Jersey law firm specializing in personal injury, professional and medical malpractice, product liability, and class actions.
For more information about this settlement and the other successful verdicts and settlements achieved by Mazie Slater Katz & Freeman, LLC please contact New Jersey Certified Civil Trial Attorney Adam Slater.
http://mskf.net/attorneyprofiles_slater.htm
# # #