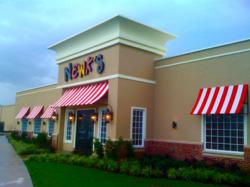 Jackson, MS (PRWEB) August 31, 2011
Newk's Express Café is on pace to exceed its expansion plans for 2011. The company has already signed 35 agreements for new locations in 2011. They have opened six restaurants so far this year and will open at least 14 more by the end of 2011, bringing the total number of Newk's restaurants to 50 by the end of the year.
One new franchise group is JK&T Wings, Inc., which will open at least four restaurants in Baton Rouge, La. and five in Grand Rapids, Mich. JK&T Wings, which is owned by Kent Ward and Jim Carmody, is also the largest multi-unit franchisee of Buffalo Wild Wings and a franchisee of Smashburger. The company hopes to continue expanding the Newk's concept in the Midwest.
Newk's has also signed an agreement to debut in Pensacola, Fla. United Diners, LLC—owned by Roman Mayer and Craig Reeder—has signed an agreement to open three units between Mobile and Pensacola by 2014. They hope to open the first restaurant by July 2012. Mayer and Reeder are also partners of Newk's restaurants in Gulfport, Hattiesburg and D'Iberville, Miss.
The company's first Chattanooga restaurant will open by the first quarter of next year. Allen Kimbrell—who also owns two Newk's restaurants in Birmingham, Ala.—and business partner Colby Kaminer have signed on to bring three restaurants to Chattanooga over the next four years.
Larry Smallwood will bring Newk's Express Café to the Gainesville market for the first time. He has signed an agreement to open three locations in the Gainesville area over the next four years. He plans to open the first restaurant in Gainesville by February 2012. His next two restaurants will be located in Ocala and The Villages.
"Newk's is really taking off this year. We have been growing steadily since we opened the first location seven years ago, and we're exceeding our expectations this year," said Chris Newcomb, president, CEO and co-founder of Newk's. "We have added some experienced restaurant franchisees who love the Newk's concept and we're confident that we will continue to expand nationwide."
Created by the founders of McAlister's Deli (Don Newcomb, Chris Newcomb and Debra Bryson) who pioneered the fast-casual restaurant concept, Newk's Express Café provides an express casual dining experience and features a variety of made-to-order choices including fresh-tossed salads, oven-baked sandwiches, California-style pizzas, made-from-scratch soups and homemade cakes baked by Newk's Bakery Company. A selection of wines by the glass and beer is also available.
Since opening its first location in Oxford, Miss. in 2004, Newk's Express Cafés have expanded their presence to seven states, mainly across the U.S. southeast. There are currently more than 35 restaurants in Alabama, Florida, Louisiana, Mississippi, North Carolina, Tennessee and Texas. More than 30 of the restaurants are franchise owned and operated. Newk's Express Café is seeking multi-unit development partners with the financial capability to open a minimum of three restaurants. Markets targeted for future expansion include Houston; Oklahoma City; Tulsa, OK.; Chicago; Louisville, KY.; Orlando; Cincinnati and Richmond, VA.
For more information about becoming a Newk's franchisee visit http://www.newkscafe.com/index.php/franchise-information/the-concept.
###