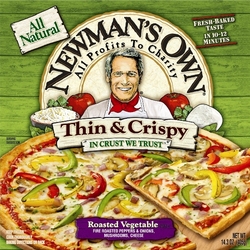 Let the Food Speak for Itself
Westport, CT (Vocus) November 16, 2010
Newman's Own, Inc., responding to consumer demand for more choices of the most popular type of frozen pizza*, thin crust, introduces three new additions to the popular and successful Newman's Own Thin & Crispy Crust frozen pizza line: white; roasted vegetable and sausage, bringing the total to eight varieties. The Newman's Own white pizza is the fastest selling new thin crust pizza in the northeast; the Newman's Own pizza line is in the top five best-selling brands nationally, second in the northeast*. A new light-hearted ad campaign, "Let the Food Speak for Itself," conveying product confidence accompanies the pizza expansion and transforms with each ad, depending on the featured Newman's Own product, from pizza to salad dressings.
"Tastings of our new pizza products with the team are especially popular events here at Newman's Own -- the samples disappear in a flash. This was certainly the case as we developed our new crop of white, roasted vegetable and Italian sausage pizzas, and these varieties round out our line nicely," according to Mike Havard, vice president of marketing for Newman's Own, Inc.
The expansion of the Newman's Own Thin & Crispy Crust frozen pizza line to eight varieties underscores the company's confidence in the product and earnest response to nationwide consumer feedback. The growth also mirrors the company's evolution from a nearly 30-year tradition of helping to make meals to making meals -- with pizza.
The full line of Newman's own Thin & Crispy Crust frozen pizzas include: Four Cheese: Supreme; Margherita; Uncured Pepperoni; Roasted Garlic & Chicken; White; Roasted Vegetable and Italian Sausage.
Newman's Own Thin and Crispy pizza retails for a suggested price of $6.99 for pizzas that range from 12.3 oz. to 14.7 oz. They can be found in the frozen food aisle at these grocers and major retailers: Wal-Mart; Target; Safeway; Kroger; Hannaford; Harris Teeter; Woodman's Markets; QFC; Fred Meyer; Fry's; Ralph's; Stop & Shop; Market Basket; Basha's; Gelson's; Raley's; HEB; Tops; Giant Eagle; Giant; A&P; Shop Rite and more.
The Newman's Own 'Let the Food Speak for Itself' advertising campaign was developed in partnership with Gotham, Inc., NYC.
Newman's Own Thin & Crispy Crust Frozen Pizza and Poppy Seed Spinach Salad
Salad recipe featured on Foodbuzz Family Bites section by contributing blogger/publisher Tiffanee of "One Crazy Cookie" food blog:
Serves 10; Prep time: 20 minutes
Ingredients:
10 oz. fresh spinach, washed
1 lb. bacon, fried crisp & crumbled
½ cup shredded Parmesan cheese
½ – ¾ cup cashew pieces
Dressing:
1 cup Newman's Own® Olive Oil & Vinegar Dressing
½ cup sugar
¼ tsp. mustard
1 Tbsp. onion, chopped fine
1 Tbsp. poppy seeds
Instructions:
Place all dressing ingredients in a blender and blend until smooth.
Place spinach in a bowl and top with bacon, Parmesan and cashews. Top with the dressing and toss to combine.
*IRI – 12 weeks ending October 2010
About Newman's Own, Inc.
Newman's Own ®, Inc., founded by Paul Newman in 1982, is a successful and growing premium food business. Newman's Own offers more than 100 varieties of delicious all-natural food and beverage products, which include salad dressings, pasta sauces, salsa, popcorn, lemonade, and thin & crispy frozen pizza. Based in Westport, CT, the charitable mission of Newman's Own®, Inc. was expressed by Paul in the Company motto: "Shameless exploitation in pursuit of the Common Good." Newman's Own Foundation continues Paul Newman's commitment to donate all profits to charity. More than $300 million has been given to thousands of charities since 1982.
Visit http://www.newmansown.com for the nearest retailer/s that carry Newman's Own products and for recipe suggestions using Newman's Own®, Inc. products.
Also, visit Newman's Own on Facebook at http://www.facebook.com/newmansown
Learn more about our mission at http://www.newmansownfoundation.org.
Awards 2010
###