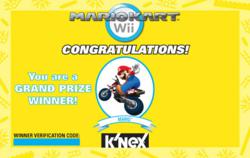 Hatfield, PA (PRWEB) June 15, 2011
K'NEX, the only US construction toy company focused on Building Worlds Kids Love™, released a second website link that can be used by fans to enter its hugely popular K'NEX Golden Ticket Sweepstakes Featuring Mario™. The newly release link is http://www.knexpromo.com. The original link will also remain fully operational in accepting entries. The sweepstakes, which runs from Monday, June 13, through Friday, July 15, 2011, was deluged with entries on Tuesday, June 14, 2011 resulting in technical difficulties for some users.
The promotion invites K'NEX Mario Kart fans to register online to receive a free Mario™ or Luigi™ K'NEX figure. 300 figures are being distributed each day during the five week promotion. Of the 10,000 figures, five lucky grand prize winners will receive a Mario figure plus a Golden Ticket that entitles them to a special prize package including: a Wii™ console (a $150+ value), the entire K'NEX Mario Kart Wii product line (18 toys featuring Mario, Luigi, Yoshi™, and their favorite karts and bikes on two popular Mario Kart Wii tracks -- a $632 value) and a trip to tour K'NEX headquarters in Hatfield, PA.
For more information, complete rules and to enter the sweepstakes visit http://www.knexpromo.com. No purchase necessary.
About K'NEX Brands
Founded in 1992, K'NEX Brands, the world's most innovative construction toy company, was established to make and sell what has become one of the world's leading integrated construction systems for children. Winner of over 200 international awards and recognitions, K'NEX is America's building toy company focused on Building Worlds Kids Love, and encourages youngsters to "imagine, build and play." Since 1992, The Rodon Group, a subsidiary of K'NEX Brands, L.P., has manufactured over 30 billion parts for the K'NEX building toy system. For more information, please visit http://www.knex.com.
Nintendo properties are trademarks of Nintendo. Nintendo is not a sponsor of the K'NEX Golden Ticket promotion.
###