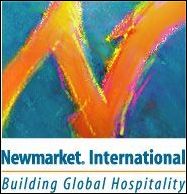 We are leveraging advanced online technology to capitalize on the increased use of the Internet by meeting planners. Our strategy is to expand De Vere Collection's meeting sales business, and Newmarket provides the tools we need to achieve that objective
Portsmouth, NH (PRWEB) March 7, 2007
Newmarket International, Inc., the leader in sales and catering solutions for the global hospitality industry, today announced De Vere Collection, operated by AHG Hotel Group, will install Newmarket's suite of software system solutions to automate online, central and property-based sales, catering, and events operations throughout its 58 properties. Previously, both Verve Venues and De Vere Hotels & Leisure were operating
Delphi Multi Property Edition (MPE), a powerful application for automating sales, marketing, and catering processes. De Vere Collection will bring both hotel groups under one company and merge its Delphi environments into one operational database. In addition to an upgrade to the latest version of Delphi MPE, De Vere Collection will install Delphi BI, MeetingBroker, DirectBook and eProposal, integrating the Newmarket solutions into its existing property management systems to maximize staff efficiency.
Mark Kemp, Director of Revenue and Distribution for De Vere Collection, said, "De Vere's recent consolidation with AHG created the largest meeting space provider in the UK. The scope of our new operation demands the most efficient enterprise sales technology available. Implementing Delphi Multi-Property Edition to create a single sales platform for all our hotels will enable De Vere Collection to solidify its branding, allow instant cross-selling of all properties and deliver advanced online booking services to close more business." Having the meeting-space availability, accounts and prospects for all De Vere Collection's properties on one system will act as a sales force multiplier because each sales person can instantly respond to opportunities across the entire chain. Delphi BI, a next-generation business intelligence solution, will allow the hotel group to better analyze business-critical data and report on those results.
De Vere Collection is also embracing the sweeping changes the Internet has brought to meeting space reservations. "We are leveraging advanced online technology to capitalize on the increased use of the Internet by meeting planners. Our strategy is to expand De Vere Collection's meeting sales business, and Newmarket provides the tools we need to achieve that objective," explained Kemp. De Vere Collection will use MeetingBroker, Newmarket's online software service that manages the in-flow of leads from all distribution channels, including phone, email and public and branded web sites. MeetingBroker will help De Vere Collection to reduce RFP response times and execute on its cutting-edge Internet strategy. In addition, De Vere Collection will implement the Newmarket DirectBook solution, letting clients reserve day meetings online anytime across any of its properties. The ability to book meetings online instantly gives customers the accessibility to the event space they want while also freeing up De Vere Collection's team to focus on increased customer service and other revenue-generating business.
To answer the growing number of online sales requests, De Vere Collection will install Newmarket's eProposal to distribute customized proposals in an interactive and attractive HTML website format that includes specific property amenity and branding information. "eProposal will be an important part of De Vere Collection's rebranding because it allows us to create proposals that differentiate our brands, hotels and venues with unique differentiated messaging. It is a great sales communication tool," explained Kemp.
President and CEO of Newmarket International, Sean O'Neill, said, "De Vere Collection is the dominant presence in the UK's meeting and convention space marketplace, and its extensive operation will become even more efficient with our Delphi, online RFP response and eProposal solutions. We are excited to have the tools to match De Vere Collection's vision for today and the future."
About Newmarket International
Newmarket International, Inc. (http://www.newmarketinc.com/?campaign=PRWebDeVereMar72007) is the leader in delivering sales, group catering and banquet software solutions to the global hospitality and entertainment industries. Newmarket International's suite of business solutions can be found in hotels, casinos, restaurants, visitor bureaus, meeting arenas and convention centers throughout the world. Newmarket International has over 70,000 users worldwide, with over 8,000 installations in 92 countries. Newmarket International is headquartered in Portsmouth, New Hampshire, with international offices in Barcelona, London, Shanghai, Singapore and Sydney.
Newmarket and Delphi Multi Property Edition are the registered trademarks of Newmarket International, Inc. MeetingBroker is a service mark of Newmarket International, Inc.
Contact:
Elise Sherman
Marketing Programs Manager
Newmarket International, Inc
(603) 436-7500
Direct: (603) 427-5759
http://www.newmarketinc.com/?campaign=PRWebDeVereMar72007
Press Contact:
Julie Keyser-Squires, APR
Softscribe Inc.
(404) 256-5512
# # #