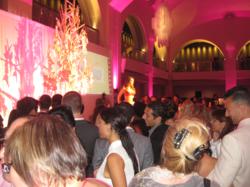 MyShindigs.com is leading the next generation of social media and becoming a reputable and lasting pillar of online communication...
Boston, MA (PRWEB) October 24, 2012
Individuals and companies are signing up onto MyShindigs in record numbers and sponsors are beginning to take notice, register and sign up onto the flourishing website as well. MyShindigs is fast becoming the epicentre of social media interaction, a hub for promoting as well as sourcing out party and event invitations, and a driving online vehicle for people to expand their social calendars. In addition this next generation social networking site offers an increasing number of free and functional online tools that enables general users, event planners, promoters, entrepreneurs, and all others involved in the hospitality industry to create bigger and better parties and events.
With the United States election just weeks away, it is no secret that the world economy is still struggling and in need of continued entrepreneurship, stimulus and growth. The economy is without a doubt the key issue in the upcoming election. Social media websites are seen as key contributors to finding jobs and helping to combat the high unemployment rate in the United States and around the world. MyShindigs has included a job resource section for its individual and organizational members. 'In today's day and age companies and individuals need to think outside the box, be more creative, expand their search, and scope of operation. We hope that the continual upgrades and addition of new online tools to the site such as the job resource section will help site users gain employment and hire new personnel' say co-founders Jason Andrews and Matthew Tautt.
The suite of party planning and event management tools is so extensive that a forum was created on the website for members to ask questions. 'The sign up process was really easy and since some of my friends weren't signed up yet I was able to locate and utilize the 'invite your friend' feature on the home page' says Heather a new member from the Chicago area.
MyShindigs offers a meeting place for all industry types including event and party planners, venue owners, events and promotions companies, caterers, etc. With Halloween season nearing many public events and parties have been posted on the website. 'Creating an event was easy. The next step involved writing an invitation to send to my shindig friends, but there is also a field that allowed me to enter as many of my friend emails as I wanted, namely those that were non-site members. What is really cool is after the party is over the invitation lives on and you can comment, rate hosts, add photos and event videos.' adds Heather. All members are allowed to submit videos to promote up and coming parties and events as one site sponsor Oxford Beach has done with great reviews. It is also free to further promote your public parties in the public forum section which allows them to be crawled by Google.
The growing and expanding new website is involved in two separate Halloween parties. One event is called Burroughes Haunted Mansion that is being co-hosted with site sponsor Oxford Beach. The second Halloween shindig dubbed "Scary Storys" is being co-hosted with Icon Legacy, the latest prominent website sponsor. 'One of our key objectives is to create a better more robust online experience for our members so they can expand their social calendars offline.' add Jason and Matthew.
The social calendars of party hosts are followed so that friends may receive alerts each time the particular host creates a public event or party invitation. In addition publicly marked parties and events appear in each person's shindig calendar, a feature that was first released by MyShindigs, which allows people to invite themselves into publicly marked parties and events. Other social media websites including Facebook subsequently followed suit with this popular feature.
Privacy in today's world is at a premium, the privacy features on MyShindigs allow members to keep their real names and e-mails private and opt for site nicknames. If parties or events are marked as "private" by the user, then only the people invited to those particular parties and events are able to see them online.
Between its rapidly increasing membership base and as sponsorship continues to grow and support this hot new innovative platform, it is not difficult to see that MyShindigs is fast becoming a reputable and lasting pillar of online communication in the next generation of social media.
About MyShindigs
MyShindigs is a social networking platform that specializes in allowing members to plan, organize, manage, promote and broadcast their public, private and company events and parties. MyShindigs allows users to search out, share, follow and join each other's events and parties of interest to expand their social calendar throughout their lives. For more information, visit http://www.myshindigs.com.