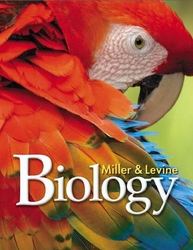 Our new biology program combines the excitement and importance of science with the nuts-and-bolts factual information that students need to do well on standardized tests
Boston, MA (PRWEB) December 17, 2008
Thousands of students across the country will take a virtual journey and live the science experience with the premier of the new and innovative edition of Pearson's bestselling high school biology curriculum . Titled "Miller & Levine Biology" for its two internationally renowned scientist-authors, Ken Miller and Joe Levine, this new program takes a bold approach to science instruction, combining the power of new technology with a proven foundation of academic success.
Through the program's new digital center, Biology.com, students will meet their partners on this science adventure - a team of "ecogeeks" who have created real experiences infusing curriculum topics with a new relevance for students. Described by Levine as "science reality TV," "Untamed Science" offers the perfect blend of energy, enthusiasm and solid scientific knowledge. Biology students will enjoy exploring their world as they embark on real-life science video adventures with these young and infectious "ecogeeks."
"Our wild classroom of ecogeeks lives to explore the mystery and wonder of nature," said Rob Nelson, lead ecogeek. "Now with this incredible biology program, we can take students everywhere with us on our adventures, exploring biodiversity."
The program's dynamic digital path offers students and teachers a wealth of other engaging activities and information, including complete online student and teacher editions of the textbooks, editable worksheets, interactive study guides, fun science games and online assessments.
"As scientists, educators and parents, Joe and I realized that this new program needed to reach students where they are most engaged in learning - online and through visual and multimedia learning experiences," said Miller. "The digital path puts students out there in the field, giving them a chance to experience what it's like to be a scientist exploring a tropical ecosystem or studying beetles."
The "Miller & Levine Biology " program aims to help all students learn the big ideas and concepts of this important field of science - regardless of their learning style or ability. Customized curriculum packages allow educators to select the personalized learning solution that fits the needs of their classrooms. "Miller & Levine Biology" is designed to use with students who are learning on grade level, while the "Foundations Series: Miller & Levine Biology" includes the same content but is written for students who are not performing at grade level, and it is embedded with reading support to ensure that struggling learners master key biology concepts. Teachers who want to combine print and digital resources can choose the "Core Edition: Miller & Levine Biology," which offers an environmentally friendly way to teach biology with a concise textbook combined with robust digital support. Or, teachers can go completely digital with Biology.com and Biology.com PLUS. The program also offers two workbooks for students who need additional support in reading or study skills.
"Our new biology program combines the excitement and importance of science with the nuts-and-bolts factual information that students need to do well on standardized tests," said Levine. "It is our dream that this program will help raise the level of science literacy in the United States."
A Foundation of Proven Academic Success
Research and biology teachers around the country support the Miller & Levine approach. A national study of the impact of past editions of the Miller & Levine biology curriculum on student achievement revealed that districts that use the program see immediate, significant gains in student science achievement.
Mark Friedman, a biology teacher at Animo Leadership Charter High School in Irvine, Calif., said, "The California edition prepares students like no other text to score significantly higher on the state tests. Our scores increased 60 points in one year, in no small part due to an increase in science achievement."
Jackson (Miss.) Public Schools chose the Miller & Levine biology curriculum in 2002 and reports great success. District science specialist Sheila Smith reported, "Our passing rate on the state biology exam increased from 78 percent in 2002 to 92 percent in 2007."
To learn more about authors Ken Miller and Joe Levine, "Untamed Science" and the way that "Miller & Levine Biology" is transforming science education, visit http://www.Biology.com.
To view a video about "Miller & Levine Biology" and the ecogeeks, visit http://www.youtube.com/watch?v=sm2EmCYBHvk.
About Pearson
Pearson (NYSE: PSO), the global leader in education and education technology, reaches and engages today's digital natives with effective and personalized learning, as well as dedicated professional development for their teachers. This commitment is demonstrated in the company's investment in innovative print and digital education materials for preK through professional learning, student information systems and learning management systems, teacher development, career certification programs, and testing and assessment products that set the standard for the industry. The company's respected brands include Scott Foresman, Prentice Hall, Addison Wesley, Benjamin Cummings, the Stanford Achievement Test, the Wechsler family of assessments, SuccessNet, MyLabs, PowerSchool, SuccessMaker and many others. Pearson's comprehensive offerings help inform targeted instruction and intervention so that success is within reach of every student at every level of education. Pearson's commitment to education for all is supported by the global charitable giving initiatives of the Pearson Foundation. Pearson's other primary businesses include the Financial Times Group and the Penguin Group. For more information, go to http://www.pearson.com.
###