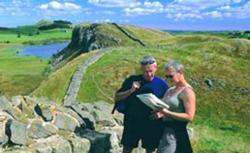 New Mind was selected because of their track record in producing world-class visitor websites.
(PRWEB UK) 23 January 2013
Leading supplier of e-tourism technology, New Mind has been selected to develop a world class tourism website covering the Hadrian's Wall World Heritage Site.
Hadrian's Wall is internationally renowned. However, the vision for the new website is to not only promote the Roman sites but to also raise awareness of the other places to see and things to do within the Hadrian's Wall corridor.
The new site will fulfil a number of key objectives for the Hadrian's Wall Trust. It will be visually inspiring, representing the status of this iconic attraction whilst aiding visitors from around the globe with their holiday planning and booking needs. It will seek to educate visitors, not only in terms of the history of Hadrians Wall but also its conservation for future generations. Information on all of the experiences on offer will be available to encourage longer stays, generating a resulting increase in visitor spend. The new website will be a dynamic shop window and a cost-effective route to market for local businesses.
Andrew Marchbank of the Hadrian's Wall Trust comments "New Mind was selected because of their track record in producing world class visitor websites. They demonstrated a complete understanding and knowledge of our business needs in presenting the Hadrian's Wall World Heritage Site in a way that strengthens community pride and delivers a significant contribution to our local and regional visitor economies."
The site will be launched in early 2013.
For further information contact:
Andy Abram
Director
New Mind
1.02 South Harrington Building
182 Sefton Street
Brunswick Business Park
Liverpool
L3 4BQ
Tel:- 0330 440 1825
Email:- andy(at)newmind(dot)co(dot)uk
About New Mind
New Mind is an award winning technology provider with expertise ranging from the implementation of sophisticated e-tourism solutions to the development of high performance destination websites.
The company's e-tourism solution is a suite of software applications designed to enable and support every area of a tourism organisation's management promotion and fulfilment, with a central product, business and visitor database at its core. New Mind's integrated offering includes website design and development, destination management systems, content management systems, online marketing and mobile applications.
Over the last 11 years New Mind has worked with some of the top performing destinations in the UK in terms of visitor numbers and income generation. In a typical month their destination web sites attract more than 2 million unique users and transact thousands of online bookings for accommodation, events and attractions.
The company has achieved success overseas with the appointment of resellers in Italy, Spain, Sweden and Finland and the acquisition of a prestigious contract with the Costa del Sol Tourist Board.