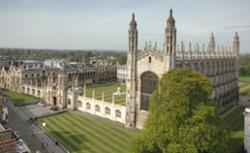 The new Visit Cambridge website is a fantastic resource for residents and visitors alike
(PRWEB UK) 19 September 2012
Leading supplier of tourism technology in the UK, New Mind, has developed a new destination website for Cambridge, http://www.visitcambridge.org.
Utilising a contemporary bold new design, eye-catching imagery and prominent calls to action, the site promotes Cambridge's versatility beyond the fine architecture and rich heritage that it is renowned for.
New Mind's eCMS(Enterprise Content Management System) has enabled a range of intuitive features to be incorporated to entice and inform visitors. The 'Cambridge Highlights' section on the home page provides themed ideas based on food, family, shopping, nightlife and heritage, all supported by inspirational imagery and swift navigation. The Events Calendar, Itinerary Builder, Things to Do Highlights and What's Nearby functionality aid the planning process, effortlessly guiding the visitor through a host of informative content.
The site aims to maximise income generating opportunities for Visit Cambridge with online booking, banner ads and clear calls to action throughout. The flexibility of New Mind's e-tourism solution has enabled additional functionality to be seamlessly integrated into the site's structure. Real time availability and pricing from a variety of 3rd party reservation systems including LateRooms, roomcheck, Booking.com and Hotelopedia is facilitated via Eviivo's polling system. Visit Cambridge's existing tour booking functionality has also been incorporated to exploit the popularity of their group and individual guided tours.
Executive Councillor for Customer Services and Resources, Julie Smith, comments: "The new Visit Cambridge website is a fantastic resource for residents and visitors to Cambridge alike. It offers lots of useful information about all sorts of events and activities in the City and further afield that will be really useful for residents and will give tourists very clear information about staying in Cambridge whether in hotels, B&Bs or College accommodation. And it gives local businesses the chance to showcase themselves. Cambridge is a wonderful City and the new website reflects its status as a historic and modern and vibrant place to live, work or visit."
Ends...
For further information contact:
Andy Abram
Director
New Mind
1.02 South Harrington Building
182 Sefton Street
Brunswick Business Park
Liverpool
L3 4BQ
Tel:- 0330 440 1825
Email:- andy(at)newmind(dot)co(dot)uk
About New Mind
New Mind is an award winning technology provider with expertise ranging from the implementation of sophisticated e-tourism solutions to the development of high performance destination websites.
The company's e-tourism solution is a suite of software applications designed to enable and support every area of a tourism organisation's management promotion and fulfilment, with a central product, business and visitor database at its core. New Mind's integrated offering includes website design and development, destination management systems, content management systems, online marketing and mobile applications.
Over the last 11 years New Mind has worked with some of the top performing destinations in the UK in terms of visitor numbers and income generation. In a typical month their destination web sites attract more than 2 million unique users and transact thousands of online bookings for accommodation, events and attractions.
The company has achieved success overseas with the appointment of resellers in Italy, Spain, Sweden and Finland and the acquisition of a prestigious contract with the Costa del Sol Tourist Board.