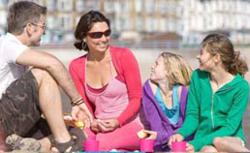 (PRWEB UK) 30 August 2012
Marketing Lancashire is continuously looking for ways to improve the visitor experience and develop commercial opportunities. New Mind's newly redeveloped tourism website, http://www.visitlancashire.com aims to deliver on all counts.
The page layouts throughout the site have been redesigned to incorporate striking lifestyle imagery, attention grabbing fonts, clear calls to action and prominent searches featuring expandable search boxes for improved usability.
The home page's 'Most popular this week' section provides inspiration on where to stay, things to do, what's on and food and drink based on visitors' current favourites.
The Explore Lancashire pages showcase the county's diversity and provide a gateway to Lancashire's favourite towns, villages and Areas of Outstanding Natural Beauty (AONBs) from within the main destination site, rather than via a range of individual sites. From the unspoilt countryside of the Forest of Bowland to Britain's favourite seaside town, Blackpool, these destination guides provide an additional layer of information to the visitor, with dedicated content on where to stay, things to do and what's on as well as intuitive searches, what's nearby, maps and tips for visitors.
Food and drink plays a leading role in the county's tourism offering too. The dedicated Lancashire Food and Drink section is packed with information on where to eat and drink as well as details on farm shops, Lancashire produce and mouth-watering recipes from Lancashire's celebrity chefs.
New Mind's new Visit Lancashire site, together with the recently developed sites for the Lancashire Witch Trials, Preston Guild 2012 and 2012 Open Golf events combine to create the definitive guide to Lancashire.
Marketing Lancashire's plans for the future involve the implementation of New Mind's new Android app and the development of a mobile website to service the continuous growth of mobile usage.
In April Marketing Lancashire announced that the site had achieved over one million unique users during the previous 12 months, an increase of 275,000 visitors on the previous year.
Ends...
For further information contact:
Andy Abram
Director
New Mind
1.02 South Harrington Building
182 Sefton Street
Brunswick Business Park
Liverpool
L3 4BQ
Tel:- 0330 440 1825
Email:- andy(at)newmind(dot)co(dot)uk
About New Mind
New Mind is an award winning technology provider with expertise ranging from the implementation of sophisticated e-tourism solutions to the development of high performance destination websites.
The company's e-tourism solution is a suite of software applications designed to enable and support every area of a tourism organisation's management promotion and fulfilment, with a central product, business and visitor database at its core. New Mind's integrated offering includes website design and development, destination management systems, content management systems, online marketing and mobile applications.
Over the last 11 years New Mind has worked with some of the top performing destinations in the UK in terms of visitor numbers and income generation. In a typical month their destination web sites attract more than 2 million unique users and transact thousands of online bookings for accommodation, events and attractions.
The company has achieved success overseas with the appointment of resellers in Italy, Spain, Sweden and Finland and the acquisition of a prestigious contract with the Costa del Sol Tourist Board.