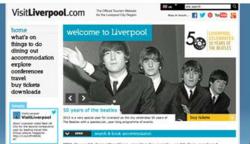 (PRWEB UK) 31 October 2012
VisitLiverpool has enlisted New Mind's expertise to deliver a renewed commercial focus to their tourism website, http://www.visitliverpool.com.
Following a usability review by New Mind, the e-tourism solution supplier has been tasked to redesign key areas of the site to boost commercial income and improve the promotion of Liverpool's unique visitor offer and diverse event programme.
Primarily aimed at leisure visitors, http://www.visitliverpool.com already boasts some impressive statistics. Average unique visitors are in excess of 150,000 per month and a 120% increase in traffic has recently been achieved following the screening of the VisitLiverpool 'Holidays at Home are GREAT' regional TV campaign.
The new home page sets out to convey a sense of place and be instantly recognisable as Liverpool, with a clear leisure focus appealing to the destination's target audience. Both the home page and landing pages have been redesigned to provide visitors with a more intuitive journey, requiring fewer clicks to access key information.
Each of VisitLiverpool's commercial target markets has been addressed by the new enhancements. For visitors, more prominent calls to action for accommodation booking and ticket sales, combined with cross-selling for the areas well known events and festivals have been incorporated. For tourist board members and related busineses, banner advertising is built into the new page layouts to generate revenue. Improved social media integration in the form of more obvious feeds, links and enewsletter signup, has been delivered to increase opt-in contacts for the organisation's eCRM activity. The structure and content of the new pages also follow SEO best practice to ensure that the site ranks highly in the natural search engine listings
New Mind's Destination Management System, branded MERVIN by VisitLiverpool continues to power all of the rich product data residing on the site.
The launch of the new http://www.visitliverpool.com has been timed to coincide with a national advertising campaign.
Ends...
For further information contact:
Andy Abram
Director
New Mind
1.02 South Harrington Building
182 Sefton Street
Brunswick Business Park
Liverpool
L3 4BQ
Tel:- 0330 440 1825
Email:- andy(at)newmind(dot)co(dot)uk
About New Mind
New Mind is an award winning technology provider with expertise ranging from the implementation of sophisticated e-tourism solutions to the development of high performance destination websites.
The company's e-tourism solution is a suite of software applications designed to enable and support every area of a tourism organisation's management promotion and fulfilment, with a central product, business and visitor database at its core. New Mind's integrated offering includes website design and development, destination management systems, content management systems, online marketing and mobile applications.
Over the last 11 years New Mind has worked with some of the top performing destinations in the UK in terms of visitor numbers and income generation. In a typical month their destination web sites attract more than 2 million unique users and transact thousands of online bookings for accommodation, events and attractions.
The company has achieved success overseas with the appointment of resellers in Italy, Spain, Sweden and Finland and the acquisition of a prestigious contract with the Costa del Sol Tourist Board.