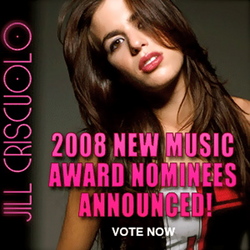 New Music's Biggest Night
West Orange, NJ (PRWEB) October 27, 2008
Multi-faceted entertainer JILL CRISCUOLO receives multiple nominations in the 2008 New Music Awards, in categories for Top 40 New Artist and Top 40 song of the year.
The Pop singer-songwriter from West Orange, NJ is among the elite that also includes top recording stars Leona Lewis, Katy Perry, Duffy, Estelle, and Kid Rock. The New Music Awards will honor major and independent recording artists, radio stations, program and music directors, record labels and industry professionals. The annual event will take place Saturday, November 22, 2008 at the world famous entertainment venue, Avalon, in Hollywood, California.
Following successes with two previous singles, JILL's latest single, "Insane" recently tracked over 21,000 cumulative spins on STS (Spins Tracking Systems). That spin count contributed to her having a five-week run in the #1 position on two AC/Hot AC charts.
Additionally she secured Top 5 ranking on AC/Hot AC and Top 40 charts in New Music Weekly magazine.
JILL works with a production-songwriting network of hit makers, GBL, at Cybertime Productions in New Jersey. Comprising of a group of producers, songwriters, musicians, and engineers, the team has generated songs for Grammy and American Music award contenders.
The New Music Awards dubbed "New Music's Biggest Night", brings the radio and music industry together for one night. Celebrating artists and bands as well record labels, and radio stations and its programmers.
To vote for their favorite nominees, Industry professionals and the general public has access to cast votes at: http://www.newmusicawards.com/main.html by clicking on the Vote Now button. Jill extends thanks in advance to all the people voting for her.
Jill Criscuolo gained spotlight in the music video world with "Insane", a video with an intriguing plot. It was conceptualized by JILL and was featured on numerous video outlets including Music Choice and Fuse on Demand. She was the recipient of two top awards in 2007 from eaTV http://www.evolvingartist.com for the video of her previous single "I'm Sorry".
The New Music Awards nominated song "Insane" was featured on several Promo Only CD compilations earlier this year. Promo Only is a highly recognized worldwide facilitator of hit music.
Digital Distribution channels: iTunes, AOL Music video, realRhapsody, Verizon Vcast, Amazon, Best Buy, and CD Baby are among many others making her music available to consumers.
ABOUT JILL CRISCUOLO
The singer-songwriter's musical journey conspicuously began at age 13, and in an interesting story-tale wrapped in fabric of a ritual of her culture, Jill found her thrill. In that instant, breaking out in song, music began to play an integral part in the soundtrack of her life. The personable 21 year-old remained active in various aspects of performing over the years. As we fast forward to the present, the entertainer is coming into her own, intent on building on her ever-developing abilities. Emerging as an unclassifiable performer, she has evolved from amateur to professional after having displayed her flair to many a crowd.
Get more info at:
http://www.jillcriscuolo.com and
http://www.myspace.com/jillcriscuolo
ABOUT DESTINED FATE ENTERTAINMENT
Destined Fate Entertainment (DFE) is an upstart record company creating a solid foundation for its artists to grow in a focused long-term environment. Operating with a talent pool of Award winning producers, and record company executives, it was launched in 2005. Producing a range of music, CD/DVD products, and entertainment management and publishing services, the company is homebase for rising star Jill Criscuolo.
PR Note:
To gain access to art work and song snippets, please visit BillboardPublicityWire.com and conduct a search for Jill Criscuolo.
About Billboard Publicity Wire

Billboard Publicity Wire is the major and indie entertainment press release service that combines the direct-to-media distribution approach of traditional PR wire services with the latest direct-to-consumer social media features and search engine optimized (SEO) internet distribution techniques. It's the most effective service available for generating media coverage and online visibility for your artists, music, films, games, events and web sites.
###