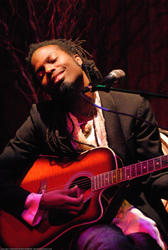 "Love" screened at Sundance Film Festival Queer Lounge, and premiered on VH1, Spike, AOL, and MTV websites
New York, NY (PRWEB) February 15, 2010
Not the typical music video, Nhojj's "Love" is about the instant attraction of two black male college students, and the quiet reflection of the day they spent together. It will have its broadcast premiere February 16 on Logo's NewNowNext Poplab. Other featured videos will include Janet Jackson's "Make Me," a Logo premiere, and "Hard" by Rihanna.
 
The making of "Love" began with the highly acclaimed indie film "Blueprint," which features "Love" as the theme song. The film screened at Cannes International Film Festival, and after the screening, director Kirk Shannon-Butts took an extra day to shoot slow motion footage of Nhojj as the angel of love.
 
Filmed in Harlem in 2008, "Love" was not released until 2009 when the the song was nominated for R&B/Soul song of the year at the OUTMusic Awards.  As a promotion for the single, Black Angel Records posted it online, and sent the video to bloggers across the United States and abroad.
 
Within days "Love" found a cult following. Viewers liked it. They found the style to be a refreshing break from the high-powered fast-moving videos that dominate pop culture.
 
In 2010, "Love" screened at Sundance Film Festival Queer Lounge, and premiered on VH1, Spike, AOL, and MTV websites. It recently topped the charts climbing to #1 on the 100 most viewed videos on MTV in the World/Reggae category, and has consistently been in the top ten.
 
Later this month, "Love" will be featured at the "In The Life Celebration" in Phoenix, Arizona, and in April will air on "Under the Pink Carpet" on Channel 25-WNYC TV in New York.
 
The song "Love" appears on the Nhojj compilation "Love Songs" and the 2x Velocity nominated "Soul Comfort." It features keyboardist Carl Evans (Stevie Wonder, Barry White); David Stark on Guitar (Rick James & Teena Marie); Tommy Aros on percussion (Luis Miguel); and is mastered by by Robert Honablue, whose Gold and Platinum credits include Santana, Roberta Flack, Aretha Franklin, Bob Marley, and Miles Davis.
 
The son of a church minister, Nhojj grew up in Guyana and Trinidad , where he sang for the Presidents of both countries. In almost a decade of creating innovative music, Nhojj has released 6 CDs and an unplugged live DVD filmed by Emmy nominated director Bill Cote. He has performed at Lincoln Center, and toured the United States, Canada, the Caribbean, and the United Kingdom.
 
Recently, Nhojj took part in the same gender loving "Gay By God" campaign. He is proud to be a spokesperson for the gay rights movement.  "I believe God is love," the singer explains, "so wherever love exists, God exists. Same gender love is just as right and good as any other – because love is at the core... that is what I want to share with the world."
 
Nhojj's schedule this year includes more songwriting, performing at gay pride events, and putting out a new CD this fall.
###