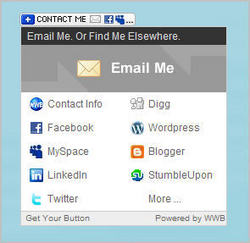 By hiding their email address with this Contact Button, users can bring an end to email harvesting & spam. Combined with the ability to share their social profiles, the button offers a powerful way to manage their online identity on their website or blog.
(PRWEB) November 19, 2009
This free Contact Button enables users to both hide their email address and share all their social media profiles in one neat place.
People no longer have to write their email as "john (at) johnsmith.com" to stop the spammers from either automatically or manually harvesting it. On a blog, the Contact Button can fit neatly into either the Sidebar or be automatically inserted at the end of each post. Visitor's messages go direct to the user's regular email account.
The Contact Button has a graceful dropdown which opens on mouse rollover to reveal an email icon and their social profiles - should the user choose to provide any. If a visitor clicks the "Email Me" icon, the email form opens on the same webpage - so the visitor stays on the user's site.
The design of the Contact Button is simple and elegant enabling it to integrate pleasingly into almost any page. Although a noticeable presence on the page, its compact and unobtrusive nature allows the user to place it on multiple pages - wherever they believe that it would be most useful to their visitors.
The Button text is customisable – it comes with "Contact Me" and a range of icons to show what you have loaded their button with (either email or social profiles or both) and these can be altered to suit the users needs.
Hiding email addresses has now never been so easy – and this social media widget is completely free.
Sharing Social Media Profiles:
The Contact Button enables users to easily share all their social media profiles with the visitors to their website or blog, without cluttering up their sidebar with lots of links.
Their social profiles appear on the dropdown menu with its appropriate social network favicon and, when clicked, open the profiles in a new window, so that their visitor doesn't immediately leave their site unintentionally. Users can also list all their means of IM and VOIP contact, so that visitors have a choice of means of contact. If users have more than 9 profiles, there is a "More" link that will guide their visitor to the rest of them which open in a separate scrollable frame.
If the user is a social butterfly, they'll find just about any social network imaginable. With over 160 social networks supported, the Contact Button plugin is one of the most extensive profile sharing tools available and enables users to include their social profiles on any page or post with a simple line of code – thereby reducing page clutter.
This social media tool is a very simple way to aggregate a user's online identity.
Auto Update:
Users don't even have to create a free account in order to create a button, although doing so enables them to automatically update the information on their button immediately at any time in the future, so when they change their email address or add profiles, they don't ever have to reload the button code.
Registration also enables them to also opt in and out of the Global Address Book whenever they want. They can display this icon (the "Contact Info" link) on their dropdown if they so choose which would give their visitors access to their address book page where they might have chosen to display a whole range of their personal and work contact details (see this example profile for John Smith).
Installation:
Installation on any website is made simple and undemanding even for the least technical user with instructions displayed in a range of easy to follow Button Installation Visual Guides.
Demonstration Buttons:
Potential users can find working Contact Buttons on each of the following demonstration sites (found on the Create Button page) which demonstrate the button's versatility on Blogger, Typepad, Tumblr, Wordpress and MySpace.
Please note that whilst WordPress.org does support JavaScript, neither WordPress.com and MySpace do, so the dropdown will not appear on these sites. Instead, the button automatically becomes clickable which opens a new window with the dropdown information on it.
Competition:
The Contact Button is set to compete with two existing products that are similar but distinctly different in design and content. Retaggr provides a more complex solution to the online identity issue whilst on the other end of the scale, IgniteSocialMedia's Follow Me product is simpler and also enables the user to display their social profiles, but doesn't provide an email solution. The Contact Button now offers consumers a third choice – a highly polished product that provides email, shares their profiles, is both easy to create and install and looks professional.
Supported Social Media Sites:
The Contact Button supports over 160 social media sites including:- Blogger Classmates Digg Facebook Flickr LinkedIn LiveJournal MySpace StumbleUpon Tumblr Twitter Typepad Yahoo YouTube Wikipedia Wordpress.
About WikiWorldBook:
WikiWorldBook, The Global Address Book, is a free online address book. It enables people to be found and contacted within three clicks of a Google search of their name – without them having to reveal their email address. The Address Book Visual Guide gives a detailed list of its easy to use features.
The Contact Button is just one of a range of free online products it offers its users which include:-
WikiWorldBook Ltd is a private limited company incorporated in England with the registration number 6457822. The company's registered offices are at 287 – 291 Banbury Road, Oxford, Oxfordshire OX2 7JQ.
###