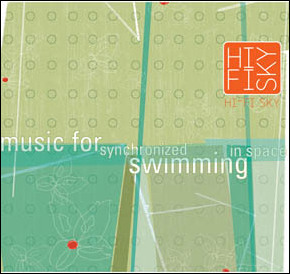 We had an amazing relationship with New Orleans music. Hi-Fi Sky played at our coffee house monthly. These are the things we miss now that we are gone
New Orleans, LA (PRWEB) August 17, 2006
A year after hurricane Katrina scattered the New Orleans culture to the four corners of the earth, there is still no way for New Orleans musical greats to get home. Hi-Fi Sky is one of those New Orleans bands still searching for ways to make it even though they are unable to return to New Orleans.
"We had an amazing relationship with New Orleans music. Hi-Fi Sky played at our coffee house monthly. These are the things we miss now that we are gone," said True Spa Consulting owner Keith West-Harrison
True Spa Consulting of New Orleans had partnered with Hi-Fi Sky to produce 'Music For Synchronized Swimming In Space"'months before the hurricane. It is music that could only be created in New Orleans from melodies that are rooted in the city's 200 year-old French and Cajun culture.
Sales of their music has soared through iTunes and Amazon.com, but Hi-Fi Sky has been split between North Carolina and Montreal. Making live performances impossible to coordinate.
Hi-Fi Sky was formed in 2004 by Tim Sommer and Alexandra Scott in the flat, flaking, slanting, shambolic city of New Orleans to make quiet music to be played very loudly…or loud music to be played very quietly. In conjunction with the release of their debut album, they'll be playing extensively around their hometown (see itinerary below). Their debut album Music For Synchronized Swimming In Space is 67 minutes of grand, ghostly, spacious, melodic sound and was released by Seersucker Fantasy Records April 20, 2005.
The "music" in question is weird electronic art pop; or maybe it's sonic ambient folk; or perhaps it is maximally minimalist chilled-out punk, or cinematic southern psychedelia. With one foot in German style minimalism, one foot in sensual, bittersweet pop, and a third theoretical foot in the indigenous folk melodies of Europe, Canada, and the American South, Hi-Fi Sky echo some of the avant-ambient territory mined by Tim Sommer's old band, Hugo Largo, while creating their own original brand of wide screen electronic ensemble playing.
Although Music For Synchronized Swimming In Space is the first music from Hi-Fi Sky, Sommer and Scott are far from music industry novices. Sommer has been professionally involved in music since he was in his mid-teens as a music journalist, radio DJ and reporter for MTV. He was a founding member of slo-core pioneers Hugo Largo, after serving for some three years with the seminal avant-garde guitar choir led by Glenn Branca. Alexandra Scott began gigging as a teenager around her native Charlottesville, VA before becoming a classical guitar major at Vassar. She has released two albums under her own name, and one with the techno vibe band, the DBC.
Keith & André West-Harrison, owners of True Spa Consulting and VooBrew Coffee & Tea were introduced to Tim and Alexandra by a mutual friend. Alexandra became the guys Yoga instructor in residence. Now the West-Harrison have moved to Santa Cruz, California and are still searching for ways to promote Hi-Fi Sky.
Reviews include "Rarely has an album been written with a name more appropriate than Music for Synchronised Swimming in Space. In fact, I doubt there exists a better description of this record than that of the title itself. Like the imagery it implies, Hi-Fi Sky's debut album is ultra measured, gravity-free and unhurriedly beautiful -- its weightless charm drifting across tranquil structure like that small moment in between wake and sleep late at night. Fortunately, this is not just the sort of music one could simply fall asleep to and forget about, like the contents of so many awful 'chillout' compilations that do nothing for entire song-lengths. Hi-Fi Sky, contrastingly, manipulate and intertwine careful chord structures and gentle guitar picking with soft, held organ chords and whispered vocals, and finally top it all off with some spacey cello or violin arrangements floating like…yep, synchronised swimming in space. Granted, it would be possible -- quite easy in fact -- to fall asleep to Music for Synchronised Swimming in Space, given its soporific nature, if that was all was needed from it. However, it would also be possible to pay careful, musically literate attention to the harmonic structure and intricate, labyrinthine textures woven across the instruments."
To support New Orleans music recovery, Hi-Fi Sky CDs can be purchased from iTunes, Amazon.com or Buy Hi-Fi Sky
For more information please contact Keith West-Harrison at 831-338-3831 or Tim Sommer at 919-767-1290.
# # #