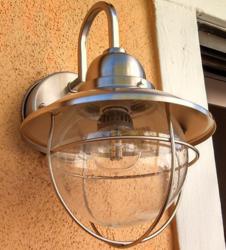 Orange County, CA (PRWEB) May 08, 2013
Conserving energy resources allows homeowners to enjoy cleaner air and a healthier environment. According to Energy Star, Americans saved more than $19 billion and avoided greenhouse gas emissions equivalent to those of 29 million cars through choices they made with energy-saving measures in one year alone.
"We've definitely seen an increased interest in making homes more energy efficient," says Steve Bowman, owner of All in 1 Handyman. "One easy way homeowners are going green and saving energy is by using energy efficient lighting products such as LED lighting. Substantial savings are possible whether building a new home, renovating an existing one, or simply updating features to improve a home's efficiency."
All In 1 Handyman is happy to help homeowners take the newest step forward in providing energy efficient lighting in homes: integrated LED light fixtures. For example, a homeowner in Mission Viejo had replaced his kitchen lighting with LED light bulbs and wanted to switch his outdoor lighting as well. All In 1 Handyman installed three new exterior light fixtures with LED light bulbs. LED lighting has become so reliable, efficient, and long lasting that for many applications, the concept of changing burned out light bulbs is becoming obsolete. In fact, LED light fixtures consume up to 85% less energy than standard lighting over the course of their long lives, while providing just as much brightness and versatility.
Another way to save energy and money with lighting is occupancy sensors. All In 1 Handyman was recently contacted by a homeowner in Irvine who needed home repairs and lighting installed. "A lot of new construction here in Irvine comes with infrared wall switches that monitor a room for occupancy, but not every room has one," explains Steve. "The device automatically turns lights on when a person enters a room and off when they leave. This saves energy, provides convenience, and lowers electric bills. I installed two Leviton occupancy sensor infrared wall switches in the pantry, where someone may leave the light on after snacking, and the laundry room where homeowners often have their arms full of laundry or forget to turn the light off."
The occupancy sensor is ideal for any room that would benefit from automatic hands-free light control, such as bathrooms, closets, laundry rooms, basements, pantries, and garages. The high tech switches have a secret spot on the front that adjusts the sensitivity of the infrared sensor and a setting to determine how long the light will stay on after a person leaves. In this case, the homeowner wanted the newly installed sensors set for five minutes for optimum energy savings. All In 1 Handyman was also able to readjust the sensors in the three bathrooms for five minutes as the client requested. Thanks to their help, the homeowner was able to complete all their home improvements just in time for the arrival of twins.
For more information about this extraordinary company, please visit their website at http://www.allin1-handyman.com.
About All In 1 Handyman Services
All In 1 Handyman has been around for more than 15 years providing high quality handyman services along with home remodeling services. Services include general handyman services along with kitchen and bathroom remodeling, painting, trim, drywall, flooring, cabinets, window installation, electrical work, fixing plumbing leaks, landscaping, concrete work, roof repairs, dry rot and termite damage, fences, gates, art installations, and packing and crating valuables. Owner Steve Bowman is a jack of all trades and no job is too big or small. The company's motto is "Work done with integrity, reliability & excellence," Steve stands behind every job he completes. He proudly serves the Irvine, Newport Beach, and Orange County areas.