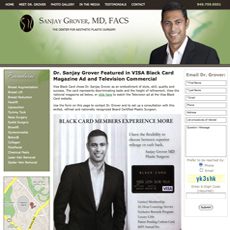 As a Board Certified Plastic Surgeon, Dr. Grover is among the most highly-trained cosmetic surgery specialists in the United States
Newport Beach, CA (PRWEB) July 31, 2009
In December 2008, Barclay's Bank introduced the Visa Black Card, a credit card featuring exclusive benefits and limited in availability to only 1% of U.S. residents. Visa Black Card has now selected individuals representing style, skill, taste and refinement in a line of national television and magazine ads, including Orange County Plastic Surgeon Dr. Sanjay Grover.
David Phillips, CEO of NKP Medical Marketing, finds the choice fitting. "As a Board Certified Plastic Surgeon, Dr. Grover is among the most highly-trained cosmetic surgery specialists in the United States," Phillips states, "so it makes sense that Visa Black Card would want him to represent their brand."
Phillips notes that Dr. Grover is certified by the American Board of Plastic Surgery, Stanford-trained, and a member of several elite surgical societies. "For our Breast Augmentation surgeons on Breast Implants USA, we require Board Certification by the American Board of Plastic Surgery (ABPS). Through rigorous training and strict educational requirements, ABPS Certification signifies a highly-trained and skilled plastic surgeon."
"That," concludes Phillips, "combined with his personal style and work ethic, makes Dr. Grover a natural choice for Visa Black Card."
Features of the Visa Black Card include 24-hour concierge service, luxury gifts and an exclusive rewards program. The limited availability of the Black Card is designed to ensure the highest caliber of personal service for card members.
More information about the Visa Black card can be found on the Black Card website, including a link to the national television ad featuring Dr. Grover.
About Dr. Sanjay Grover:
Dr. Grover is a Board Certified Plastic Surgeon and is a Diplomate of the American Board of Plastic Surgery. He received his post-graduate training in General Surgery and Plastic Surgery at Stanford University. He was selected for this highly competitive and prestigious "combined" training program upon concluding medical school. Following his training at Stanford, Dr. Grover completed an additional elective fellowship in Aesthetic and Oculoplastic Surgery at the renowned Paces Plastic Surgery Center in Atlanta, Georgia.
Dr. Grover understands that the selection of a plastic surgeon is an extremely important decision for any prospective plastic surgery patient. As such, he endeavors to provide each of his patients with both personalized attention and surgical excellence. He is well-versed in the latest plastic surgery and laser techniques.
Learn more about Dr. Grover's Newport Beach Plastic Surgery practice at drgrover.com.
About Breast Implants USA:
BreastImplantsUSA.com provides women seeking information about breast augmentation, saline and silicone breast implants, board certified plastic surgeons and breast enhancement procedures a wealth of information through plastic surgery videos, interviews with surgeons, articles, before and after photo galleries, access to financing and more. To learn more about Breast Implants USA, contact David Phillips or visit breastimplantsusa.com.
NKP Medical Marketing, Inc., specializes in Medical Website Development. Information regarding NKP Medical Marketing's services is available from David Phillips or by visiting nkpmedical.com.
###