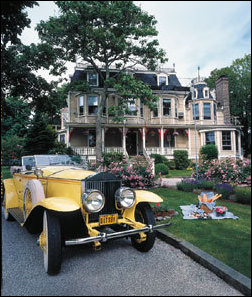 We're seeing a lot of two and three-night mini-vacations this summer and less of the three and four or five-night Newport summer vacations we've seen in other years
Newport, RI (PRWEB) August 10, 2006
Targeting a growing number of summer vacation-time-constrained travelers, Newport's leading luxury inn group, the Legendary Inns of Newport, has launched three late-summer, mini-vacation getaways.
"We're seeing a lot of two and three-night mini-vacations this summer and less of the three and four or five-night Newport summer vacations we've seen in other years," said Winthrop Baker, Group President, Legendary Inns of Newport. "Our new mini-getaways offer vacation-time-starved guests some very attractive summer getaway values in August."
The group's flagship Newport, Rhode Island B&B property, Cliffside Inn, is offering 25% off the third-night of a three-night reservation, Sundays through Thursdays. At Adele Turner Inn, guests save 50% off on any Tuesday, when they book Monday and Tuesday together.
The ultra-luxury Abigail Stoneman Inn mini-getaway vacation package includes two-nights with the best available luxury suite or room, plus the Quintessential Newport Summer Getaway Package, just named by Fodor's as one of New England's top three summer getaway package values. It includes tickets to Newport RI's Gilded Age mansions, vineyard tours and wine tastings, and the Destination Newport coupon book with $500 in savings Newport, RI restaurants and shops. The getaway package is available Mondays through Wednesdays. The all inclusive price is $700.
In addition to being the first AAA Four Diamond luxury bed and breakfast inns in Rhode Island, the trio of well known B&Bs is also AAA's top-rated Rhode Island lodging group.
Along with the special rates and package add-ons, all mini-getaway vacations include the luxury amenities and services the Legendary Inns is known for: warm hospitality and personal service; acclaimed afternoon tea (named one of America's Top 20); multi-course breakfast; finely appointed suites and guest rooms with whirlpools, steam baths, grand beds, fireplaces, antiques and artwork; pillow menu; signature in-room spa service; and elegant locations near the beach and in-town.
For more information on the August mini-vacation getaways, please visit the Legendary Inns of Newport summer travel specials webpage.
The Legendary Inns of Newport is a distinguished group of three boutique luxury bed and breakfast inns. All set in historic, Victorian homes, they have been meticulously restored and seamlessly blended with the finest modern amenities to produce unique, luxury B&B inns known for their refined elegance, grand style, warm hospitality and attentive service. The group includes Abigail Stoneman Inn, Cliffside Inn, Adele Turner Inn. For more information visit the Legendary Inns of Newport media website.
###