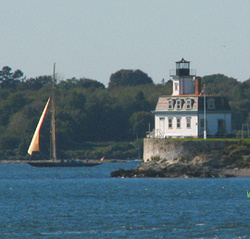 Each stop on our summer getaway eco-adventure walks is a Newport top 10 location. The combination is unforgettable.
Newport, RI (PRWEB) July 25, 2008
From lighthouse tours in Newport Harbor to coastal eco-adventures to architecture and living history walking tours of Newport, Rhode Island, the Legendary Inns of Newport RI is launching a unique series of getaways and summer vacation packages for guests at its well known group of luxury Newport bed and breakfast inns.
"These new summer getaway packages are about actively getting out and discovering Newport beyond its famous Gilded Age mansions and America's Cup sailing history," said Winthrop Baker, Group President, Legendary Inns of Newport." Newport is said to have more great architecture than any other city in America, with a history to match. But equally stunning are the coastal vistas, beaches, and eco-adventure opportunities."
Rhode Island has nearly three dozen lighthouses, but perhaps none is better known than Newport Harbor's Rose Island Lighthouse. This majestically restored Victorian lighthouse is only easily accessible in July and August.
The Rose Island Lighthouse Package includes ferry service to and from Rose Island, a tour of the historic lighthouse, access to the old military barracks of Fort Hamilton and other parts of Rose Island and its coastal wildlife. The boat ride alone is a memorable way to see Newport Harbor. Cost per couple is $40.
"The Eco Adventure Walks Package offers an easy way to get out and walk some of the most stunning coastal vistas and rolling hills of the Newport region, plus enjoy an oceanside wine tasting," said Baker. "Each stop on our summer getaway eco-adventure walks is a Newport top 10 location. The combination is unforgettable."
The package includes: admission to Norman Bird Sanctuary and its 300 acres of woodlands, ridges, and coastal ocean trails; walking guide to Sachuest Point National Wildlife Refuge with its dramatic oceanside setting; wine tasting and self-guided tour of coastal winery Greenvale Vineyards; and a just-published walking guide and map to the Cliff Walk, the prominent walking trail that winds along the Atlantic Ocean cliffs in front of Newport's famous Gilded Age mansions. The package cost is $50 per couple.
The Architecture and History Walking Tours Package features guided walks through colonial Newport plus lunch at the White Horse Tavern, America's oldest tavern.
Guides from the Newport Historic Society walk you through Newport's "living" colonial neighborhoods. Also included: American Institute of Architects book "Guide To Newport," a new self-guided tour to all eras of Newport architecture and history; entry to the Museum of Newport History; and lunch for two at the White Horse Tavern before or after the walking tours. Cost per couple is $75.
The Legendary Inns of Newport group includes Cliffside Inn, Adele Turner Inn, and Abigail Stoneman Inn. In addition to being the first AAA Four Diamond luxury bed and breakfast inns in Rhode Island, the trio of well known Newport B&Bs is also AAA's top-rated Rhode Island lodging group. Along with the new group of summer vacation getaway packages, all guest stays include the luxury amenities and services the Legendary Inns is known for: acclaimed afternoon tea (named one of America's Top 20); multi-course breakfast; finely appointed guest quarters with whirlpools, steam baths, grand beds, fireplaces, antiques and artwork; pillow menus; elegant locations near the beach and in-town. For more information check our media site.
###