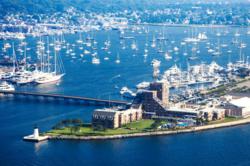 Hyatt Regency Newport Hotel & Spa is putting its own special spin on a regional tradition with a new monthly series of waterfront Summer Clambakes.
Newport, RI (PRWEB) August 04, 2011
Nobody cooks up summer seafood like New Englanders, and Hyatt Regency Newport Hotel & Spa is putting its own special spin on a regional tradition with a new monthly series of waterfront Summer Clambakes overlooking the historic Point section of Newport.
The Summer Clambakes at the Newport, Rhode Island hotel offer something for every palate. Guests are invited to tuck in their bibs and savor Aquidneck Clam Chowder, followed by a "Raw Bar" of freshly shucked oysters, chilled poached shrimp and homemade cocktail sauce. Then they'll move on to enjoy chilled Maine Yukon Gold potato-leek soup, pasta, grilled asparagus, buttermilk cornbread, fruit and more. The "PIT" offers whole local lobsters, sizzling steamers, sweet corn on the cob and red bliss potatoes. Plates can be piled high with barbequed chicken, swordfish, beef tenderloin and linguica sausage. The little ones can have their pick off the Kids Menu, and are encouraged to save room for the "Sweets Station" and "Cupcake Bar," featuring everything from warm peach crumble to sweet vanilla ice cream.
Post-dinner, guests can sip their favorite libation overlooking Newport Harbor at Pineapples on the Bay, the hotel's recently renovated bar and restaurant that was a highlight of this summer's $750,000 phase two renovations. New signature cocktails are available at an additional cost and include creations such as the Narragansett Pirate, featuring Newport's own Thomas Tew Rum, Malibu Coconut, banana liqueur, pineapple juice, OJ and a splash of cranberry juice.
Clambakes are open to the public and offered once a month throughout the season on August 11, and September 1, at the Windward Restaurant Dock. Cocktail hour begins at 6:00pm; dinner begins at 6:30pm with award-winning clam chowder, followed by clambake unveiling at 6:45pm; grand dinner buffet from 7:00 - 9:00pm. The cost is $85 per person (based on one lobster per person; additional lobsters are extra); $35 per person ages 5-12 with lobster; $19 per person ages 5-12 without lobster.
For reservations or more information, please contact Hyatt Regency Newport's restaurant team at 401.851.3325, or visit http://www.goatislanddining.com or http://www.newport.hyatt.com.
About Hyatt Regency Newport Hotel & Spa
Located on Goat Island in Newport Harbor of Narragansett Bay, Hyatt Regency Newport is just minutes from the Gilded Age mansions, Cliff Walk National Recreation Trail and absorbing history of Newport, Rhode Island. The hotel's 257 guestrooms, many with spectacular water views, are appointed with elegant interiors and décor. The renovated, full-service Stillwater Spa offers myriad treatments with marine-based products, while the adjacent fitness center features an indoor pool. Guests can drive from the hotel's two-story parking garage over Goat Island bridge or reach downtown Newport aboard the electric "Plug 'N Play" boat launch – a scenic and environmentally friendly service. The Windward Restaurant offers the finest in seaside dining, Pineapples On the Bay is a casual waterside restaurant, and Five33 Lounge serves creative cocktails and light fare before great views of Newport Bridge and Narragansett Bay. The hotel is also a splendid destination for meetings and special events, with 25,000 square feet of renovated indoor space and 50,000 square feet of outdoor space.
###