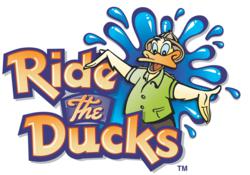 Newport, KY (PRWEB) May 10, 2011
Usually, ducks don't hibernate. But The Ducks from Newport do.
On May 20, after a long, cold off-season, the popular vehicles from Ride the Ducks Newport will be back and ready to offer one-of-a-kind tours of the region.
Utilizing customized amphibious vehicles crafted from models used during World War II, Ride the Ducks' tours travel on the Ohio River as well as on city streets in and around Downtown Cincinnati and Newport. Sites on the tour include Great American Ballpark, Paul Brown Stadium, the World Peace Bell, Newport Aquarium, Covington's Historic Riverside Drive and much more.
Every guest is given a "Wacky Quacker" noisemaker and encouraged to use it vigorously when passing boats on the river or large groups of people on the city streets. The Duck crew will entertain through stories and jokes or by playing just the right song for the moment. Hang on to your seat when the Duck drives right into the river for the giant "splashdown." It's a one-of-a-kind tour and designed to be fun for the whole family.
***NEW THIS YEAR! Ride the Ducks Newport will celebrate the 10th anniversary of Newport on the Levee's opening by offering $10 tours at 10 a.m. every day. The price is good for just the 10 a.m. tour so ticket supply is limited. Plan your visit today.
Also new this year: Ride the Ducks shifted the boarding area for the Ducks to the southeastern side of the Levee valet circle on Third Street (in front of Toro restaurant).
The Newport attraction opened to the public in July 2008 and is the sixth 'Duck' service operated by Herschend Family Entertainment (HFE) which also owns Newport Aquarium. Ride the Ducks International, as the parent company is known, also supports similar operations in Boston, Philadelphia, Baltimore, Atlanta, San Francisco, Seattle and Branson, Missouri.
Tickets for adults are $17 and $12 for children. Tour times vary by day. Call or visit http://www.newportducks.com for up-to-date information. Discounts are available for groups of ten or more. Tickets can be obtained by calling (859) 815-1439 or by visiting the Ride the Ducks welcome center located on the Newport on the Levee plaza outside the main entrance to Newport Aquarium.
# # #