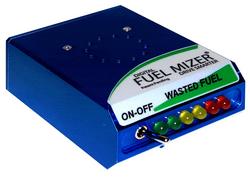 Now, why didn't I think of that?
Detroit, Michigan (PRWEB) August 6, 2007
The Digital Fuel Mizer, developed by GI Engineering Company in Southeast Michigan, is the type of product that just makes a person wonder "Now, why didn't I think of that?" Drivers will get their first glimpse of the new fuel saving device during the upcoming Woodward Dream Cruise. Fuel Saving Devices
Company President, Dwayne Esterline, notes, "The Woodward Dream Cruise celebrates the best memories of the automotive industry, and is attended by over 1.7 million visitors. What better time and place could there be to introduce an innovative fuel saving product."
About the Digital Fuel Mizer:
"By taking advantage of recent developments in the microelectronics industry, we have developed a new product that will provide the every day driver with the sensitivity and skill of the professional driver. The skill required to drive your vehicle in the most efficient manner, and maximize fuel economy," says Dwayne Esterline, President of GI Engineering Co.
He notes, "This device is not a miracle pill or a magical air twister, but an electronic instrument that provides an objective, measurable and repeatable indication of vehicle acceleration and braking."
Harsh acceleration and braking, also known as 'Jackrabbit Starts and Stops', is known as one of the largest contributors to poor fuel economy. It also represents one of the greatest opportunities to improve mileage and cut fuel costs.
The Digital Fuel Mizer works by monitoring the vehicle acceleration and braking levels, and provides the driver with a visual and audible alert when the vehicle is operated inefficiently. This feedback allows the driver to adjust their driving style for peak fuel economy. (Increased MPG)
The device is compatible with all vehicles and fuel types. It requires no vehicle modification, and is completely self-contained. It easily attaches to any surface such as the dashboard, console or ceiling of your vehicle.
Dealer and distributor inquiries are welcome, and the company will provide evaluation units on loan to qualified media free of charge.
For more information, see the product website Improve Fuel Economy
# # #